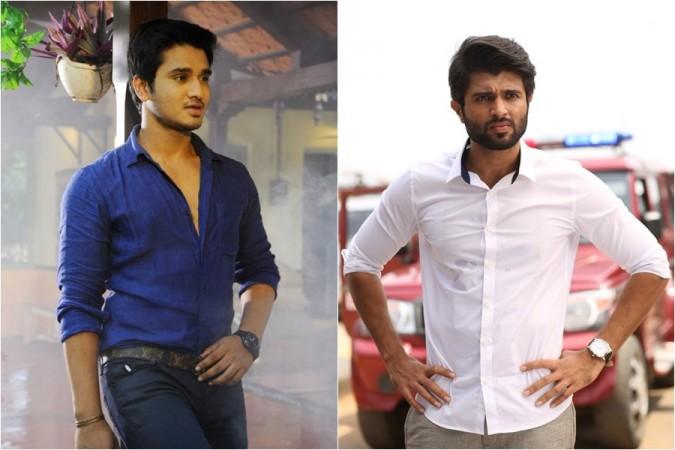 Actor Nikhil Siddhartha has shared a video message from the US, requesting the audience to kill piracy and watch Taxiwala in the theatres only. He seems to be making peace with Vijay Devarakonda's fans.
The unfinished full movie of Taxiwala was leaked on the internet for free download. With the film slated to hit screens on November 17, the team fears that piracy may take a toll on its collection at the box office. Hence, the team-members are requesting the film-goers to say no to piracy and watch the movie in the theatres.
Sujith Sarang, who has handled the camera work of Taxiwala, took to Facebook to request his followers. In his post, he claimed that he and other members of the unit have put in a lot of effort for the film over a year. He had put in a lot of hardwork into the film, ignoring his health and doctor's advice for rest. He also shared a couple of photos as proof for it and they created a lot of buzz in the social media.
After seeing Sujith Sarang's post, Nikhil Siddhartha, who is currently shooting Mudra in the US, took to Twitter to voice his support to the team of Taxiwala. The actor tweeted, "In the USA.. just saw a post from @sujithsarang nd reacted... Two of my close friends @SKNonline nd Rahul maiden debut Adventure... Request from the bottom of my heart KILL PIRACY (sic)."
Nikhil Siddhartha also tweeted a video in which he is seen saying, "I saw the posts of Sujith Sarang and director Rahul Sankrityan, who is very good friend of mine. They have really done a lot of hard work for the film and their work will go in vein due to piracy. It happened to Aravindha Sametha and now Taxiwaala. My film Mudra could be the next. So guys please watch the film in theatres and kill piracy."
Nikhil Siddharth adds in the video, "It is a very passionate and young team. SKN is the producer (of Taxiwala) and I know him how dedicated he is. He has put it lot of hard work for my film Keshava and I have seen it. I wish best of luck to all the team members like Vijay, Priyanka, Sujith and SKN. Guys! Please support Tollywood cinema and watch Taxiwala in the theatres."
It should be recalled here that Nikhil Siddhartha had apparently taken a dig at Vijay Devarakonda after the latter opened up on negative reviews for NOTA. The upset fans of Vijay had blasted, trolled and forced him to delete his post. Now, some feel that the actor might be soothing those angry fans, by voicing his support to Taxiwala. A few even feel that it is an attempt to draw attention towards Mudra.