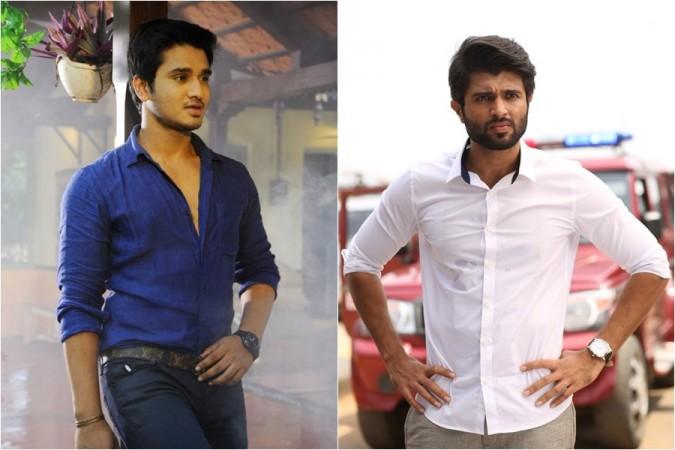 Actor Nikhil Siddhartha apparently took a dig at Vijay Devarakonda after the latter opened up on negative reviews for NOTA, but the Karthikeya actor deleted his tweet after latter's fans attacked him.
The bilingual movie NOTA hit the screens on October 5 and received mixed word of mouth, which took a toll on its collection at the box office. Vijay Devarakonda took to Twitter and respond to the reviewers on Monday night. In a detailed comment, he said that he has taken their criticism and he will correct after studying the critics' views. Meanwhile, he said that he would not give up his attitude.
Vijay Devarakonda tweeted, "To everyone who goes to the cinema for me And to all who hope others fail and celebrate it ._• I will not make excuses, I take responsibility, I am proud of NOTA. It's a story I wanted to tell, a character explored and a performance delivered."
"Tamil Nadu, the national media and all the audience who loved it here, your love has been received. All the disappointment and criticism is taken seriously, it will be studied, the miscalculation on my side corrected, decisions evaluated and work put in but the attitude will not change. A success or failure isn't what makes or breaks a Rowdy. The day you stop, give in, give up, that's when you stop being one. And being Rowdy isn't about just winning, it's fighting for that win, it's an attitude that burns inside us, so be proud rowdies, keep fighting. Gelusthe Gelustamm Leda Nerchukuntamm."
"For those who are celebrating this, ippude pandaga cheskondi 17 I will be back. Rowdy for life! Your man. Vijay Deverakonda."
Nikhil Siddhartha took to Twitter this morning and wrote, "For ppl who think The World Revolves around them .... nd throw unnecessary Attitude around.. DUDE UR NOT THAT IMPORTANT... Every Actor only Competes with Himself. We r but a drop in the ocean called Movie Making Hype Less... Work More... (sic)"
Some Vijay Devarakonda fans apparently mistook that Nikhil Siddhartha was targeting him and condemning his attitude. A few of them were upset with his post and bashed him in their reply to his post. Nikhil, who understood the sensitivity of the matter, deleted his comment posted on Twitter.
Later, Nikhil Siddhartha issued a clarification on the reason for deleting his comment on Twitter. He tweeted, "Deleting my Previous tweet because it wasnt meant against anyone or anybody ‍♂️‍♂️ Nd realised evrything can be twisted into anything But Twitter is fun this way (sic)."
Vijay Devarakonda continued to target him and troll Nikhil Siddhartha in reply to this comment too. The upset actor deleted this post 45 minutes after tweeted it.