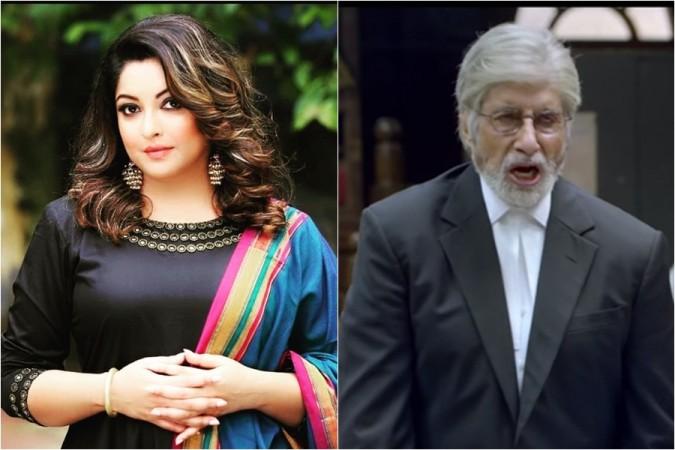 Tanushree Dutta is hurt with Amitabh Bachchan's evasive statement, "Neither am I Tanushree, not am I Nana Patekar, so how can I comment on this?"
The 75-year-old actor was asked to comment on the 2008 incident between the actress and Nana Patekar during Thugs Of Hindostan trailer launch.
Big B received heavy backlash on social media and was termed as an escapist by the netizens. They also reminded him of his hard-hitting lines in Pink and the heartfelt letter which he penned for his granddaughters Aaradhya and Navya Naveli Nanda. He has still maintained his stoic silence over the issue.
"I'm hurt, as these are people who do movies on social causes. They play roles in films and the audience applauds. But when it comes to standing up and doing something about what is happening in front of you, there are these evasive statements that don't make sense," Tanushree was quoted as saying by Hindustan Times.
Meanwhile, Nana Patekar has sent a legal notice to Tanushree seeking an apology for her statements. His lawyer Rajendra Shikodkar has termed her harassment allegations baseless and untrue.
Nana denied his role in sexual misconduct with Tanushree in 2008. The veteran actor feels that it is not right for people to jump to conclusions before even listening to his side of the story.
"It's all about what do you want to believe. Do you really think ki me itka ghanerda manoos aahe? (Do you think I am so disgusting?) Do people not know me at all? I don't need others to validate my good conduct. I can barely dance and it's not even something I like doing. Why would I ask someone to introduce some lewd step? There are 500 people on set! These are some serious allegations. In a situation like this, I can either deny them and say that it's a lie or take her to court for maligning me. What else I can do? But I will speak in detail once I am back and I hope people don't jump to conclusions before that. That is not right," Nana concluded.