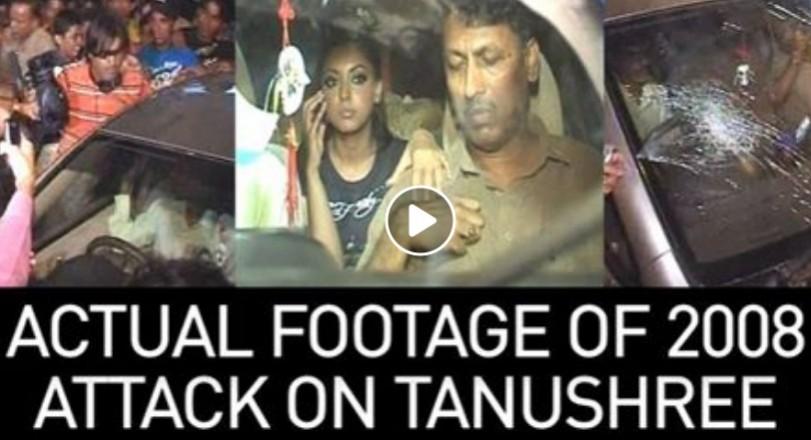 After a decade, Tanushree Dutta once again recalled her horrific incident that took place on the sets of her 2008 film Horn Ok Please. She accused Nana Patekar of trying to touch her inappropriately while shooting for a dance sequence. She also recalled how her vanity van and car was attacked by goons which left her traumatized.
And now a terrifying video of the fateful day, recovered and put together by NewsMo (owned by Living Media India limited - India Today Group) from their archives, shows Tanushree's car getting vandalized by a mob while she is still sitting inside along with her driver. The attack took place after she walked out of the Nana Patekar song objecting to alleged lewd steps that were suddenly introduced.
In the video, some goons can be seen attacking Tanushree's car, smashing the windsheild and deflating the tyres of her vehicle. Police can are also present in the footage who can be seen trying to bring the situation under control. Eventually, police detained some of the goons as seen in the video.
However, the man in the orange t-shirt, who was seen attacking Tanushree's car with a camera, was a cameraman named Pawan Bharadwaj who was working with Sahara News channel at that time. He has claimed that the attack has nothing to do with the incident that happened between Tanushree and Nana Patekar.
"I was asked by the assignment desk to go for a shoot at Filmistan studio that day. I went with our reporter Tejal Mehta to do the story at Filmistan, I did not have any idea what the story was or who is involved in it. We waited for the actors to exit the shooting floor and as soon as we saw Tanushree Dutta and her father emerge, I started rolling my camera. But Tanushree's team attacked our reporter Tejal and then her father snatched my camera from my hand and slammed it on the ground, my camera broke from the front and back," Pawan recalled the incident while speaking to The Quint.
Pawan alleged that Tanushree and her father tried to rush out of the studio in their car during which one of the car type ran over his feet. He said his camera got damaged during the mishap and when Tanushree and her father refused to compensate for the damage incurred, he started hitting their car with the camera in frustration.
"I almost fainted, the bystanders sprinkled water on my face and I revived myself and realised that their car had been stopped near the exit gate by a crowd. I was angry that my camera had been destroyed, I was worried about my job and so I demanded a compensation, but they did not listen to me, so I started hitting the car with my camera in my frustration," he said.
As per Pawan, the news channel had filed a complaint against Tanushree and her father for assualting their reporter and damaging their property. However, the complaint was dismissed after a settlement between both the parties.
Pawan also said that he does not recognise the man who was seen jumping on Tanushree's car.
Earlier, journalist Janice Sequeira, in her account, had said on Twitter, "Out of nowhere, goons turned up and began banging against the vanity van door. I was told the producers had called them to set. Cops arrived. Amidst this chaos, I got hold of #NanaPatekar. All he said was, "Meri beti jaisi hai", which didn't really make any sense at that point.
"Eventually, Tanushree's parents arrived to pick her up. Her car was attacked, the windshield broken. I tried to get in touch with Tanushree to get her version of events. Around midnight, she asked me to come to her place. In tears, she narrated what really happened."
Watch the video here: