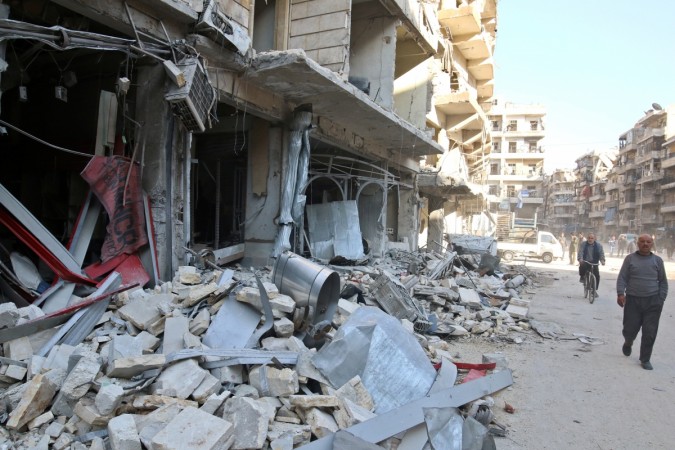 Forces belonging to the Syrian regime are reportedly targeting hospitals in Aleppo in a continued effort to destabilise the region and frighten people away from supporting the rebel forces that want the current government headed by President Bashar al-Assad gone. The regime forces have already warned Aleppo residents to "flee or die" before conducting earlier attacks.
United Nations Human Rights chief Zeid Ra'ad al Hussein has already said that the siege and bombing in Syria's eastern Aleppo are "crimes of historic proportions." Now, with the regime forces targeting hospitals, including a local paediatric hospital, the situation there may be worse than ever.
On Saturday, a statement released by the Syrian Observatory for Human Rights (SOHR) said: "The eastern neighbourhoods of Aleppo are still witnessing since morning intensified shelling by the regime forces, and bombing by warplanes and helicopters."
It added: "The regime forces renewed the targeting of hospitals in the eastern neighbourhoods of Aleppo, where artillery strikes targeted this evening the hospital of Omar bin Abdul Aziz in the Maadi neighbourhood." The shells that fell in the vicinity of the medical facility caused enough damage, "putting the hospital out of service."
According to the SOHR statement, "the hospitals of al-Zarzour (in the Ansari neighbourhood) and al-Hakim and al-Bayan (in al-Shaar neighbourhood)" have already been put "out of service." The report also said: "Schools were closed and the students' time was suspended for two days period at least" in the region.
Paediatric hospital attacked
On Friday, an Associated Press report had said that a paediatric hospital in eastern Aleppo had been attacked, leading to great chaos as people tried to save their lives even as doctors, nurses and other medical professionals raced to save the children undergoing treatment there.
Eastern Aleppo is a stronghold of the Syrian rebels, and has come under constant attack by the regime forces in recent times. An SOHR statement from Friday had said the attacks had killed seven people that day.