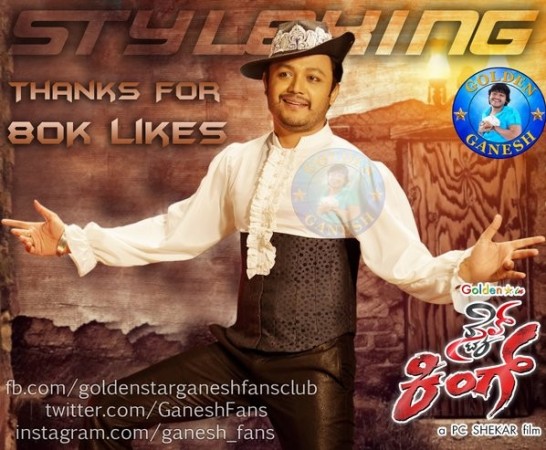 Director PC Shekar's Kannada movie "Style King," featuring golden star Ganesh and Remya Nambeesan in the lead roles, has received positive review from the audience.
Check: Ko 2 Review | Azhar Review | Pencil Review | Style King Poster
"Style King" is a comedy entertainer with other commercial elements like action and romance. Director PC Shekar, who has earlier worked with Ganesh in "Romeo," has once again teamed up with the golden star. Besides direction, he has also written the story, screenplay and dialogues for the movie.
The audience say "Style King" has a simple story and interesting screenplay, which is different from regular mass masala films. The director manages to keep the film goers engaged right from the beginning till the end. His characterisation is good and he has tapped out good performances from almost everyone in the movie.
Ganesh has played a double role as Karthik and Kashi and has done justice to both the roles. His class and mass avatars are the big highlights of the movie. Remya Nambeesan does not get much screen space, but she manages to steal the hearts in the given time. Rangayana Raghu, Mithra, Gireesha, Padmaja Rao, Sundar Raj, Sadhu Kokila and others have also done justice to their roles.
"Style King" has been produced by Maruthi Jediyavar under the banner Maruthi Enterprises and the film has decent production elements. Arjun Janya's soundtracks and background score, Santhosh Pandi's picturisation, beautiful art direction and selection of exotic locales are the big attractions on the technical front.
We bring to you some viewers' verdict shared on Twitter. Here is the live update of "Style King" movie review by audience:
CINEMA ತರಂಗ ‏@cinema_tharanga
#Styleking comedy entertainer/ thriller. movie is very good. simple story, smooth screenplay. no much heroism...direction excellent #Styleking there are many movies coming in kannada but what makes #Styleking different is '--it's very near to our nativity'. as #Romeo #StyleKing it's a @PCSekar movie and u find excellent middle class characterisations - #RangayanaRaghu's comedy dose is bit high this time #StyleKing. #mithra #gireesha #PadmajaRao #SundarRaj #Sadhukokila excels in their comical timings .....#Avinash is missed this time ... #StyleKing ....missed star villains too...but ok type of performance from the negative characters .. #StyleKing ..@Official_Ganesh @ofis back with a bang this time in a double role as #Karthik and #Kashi both in Class and Mass avatars.superb #StyleKing ...special mention to bgm and music of the movie. keeps you hooked. ...by @ArjunJanya2 ..Happy birthday @ArjunJanya2 All the best #StyleKing ...Heroine of the movie #RemyaNambeesan suits the role though not much screen space ..Songs are picturised well...nice art work #StyleKing .....Great work by 'Dialogue writers' ..They are the real heroes of this movie... expect these type of movies more in coming days. #StyleKing ..@Official_Ganesh mass avatar as #Kashi gets whistles allover .One time watch in theatres but a feast in when it comes to TVs
#‎StyleKingArrives ‏@shivarajkumar57
Watched @officel_Ganesh #styleking .thriller, action, drama, comedy gud entertainer. #Ganesh new avatar awesome #StyleKingGanesh rocks
Shashiprasad S M ‏@smshashiprasad
#StyleKing Golden dual role with difference - one with properly grown moustache n d other with the typical g star moustache. #StyleKing typical dual role set up - baddie and the goodie
SagarGanesh ‏@vmsagar574
#Styleking Watched what an wonderful movie. comedy, BGM, fights are fantastic. movie ordinary alla extraordinary sir
Cineloka.co.in ‏@cineloka
#StyleKing - comedy entertainer blended well with action sequences. @Official_Ganesh's recent best. Worth watching - 3.25/5.