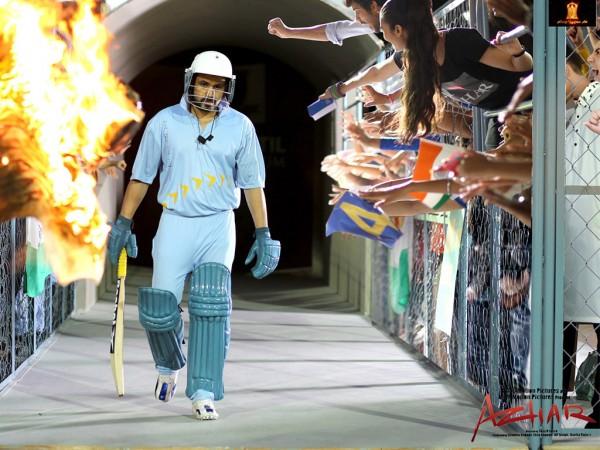 Director Tony D'Souza's Bollywood movie "Azhar," featuring Emraan Hashmi, Prachi Desai and Nargis Fakhri in the lead roles, has received positive reviews from the audience around the world.
Check: Azhar review | Azhar Posters | Celebs at Azhar Promotion | Trialer Launch Photos
Written by Rajat Arora, "Azhar" is a sport drama film, based on the life of former Indian cricketer Mohammad Azharuddin. The movie is a fictionalised dramatic representation of some important incidents and facts that happened in the life of the cricketer. The film focuses on his love life and family more than his sport. Its brilliant script, which is engaging, is the highlight of the film.
Emraan Hashmi plays the title role in "Azhar" and audience have said that it is tailor-made for him. He has delivered a brilliant performance, which is the main highlight of the movie. Prachi Desai and Nargis Fakhri, who have played his two wives, have done justice to their roles. Lara Dutta, Gautam Gulati, Manjot Singh and others have done their jobs well.
Azhar has been produced by Shobha Kapoor, Ekta Kapoor and Sony Pictures Networks and has decent production values. Amaal Mallik and Pritam's music and Rakesh Singh's camera work are big attractions in the technical front, say the viewers. We bring to you some film goers' verdict shared on Twitter. Here is the live update of "Azhar" movie review by audience:
Taran Adarsh ‏@taran_adaarsh
#AZHAR is Outstanding..Don't miss it! @emraanhashmi's career's best performance & his best film by far!! Must Watch film for cinema lovers.
Faridoon Shahryar ‏@iFaridoon
Tony D'souza's #Azhar is brilliantly engaging,excellent writing of Rajat Arora n career defining performance by Emraan makes it a Must watch Emraan delivers his career best performance in #Azhar. He not only captures d physical nuances,he captures d Unique Spirit of Azharuddin!! As I drive back home,I'm taking many remnants of Emraan's classic performance in #Azhar.Endearing,heartbreaking,stoic,romantic.Wow!! Prachi looks angelic n her performance carries a lot of character n grace.She does something in #Azhar that she has nevr done b4.First rate! Nargis is delightfully gorgeous n adds a lot of emotional quotient to her performance.Her glam appeal is eminently watchable #Azhar #Azhar is engaging story telling at its best.Tears,romance,drama,humor,superb writing-direction n Rocking Emraan...U don't wanna miss this!
Kunal M Shah ‏@iamkunalmshah
Just saw #Azhar & still cant get over the brilliance of @emraanhashmi His best performance till date. This one is sure to stump you! This one is probably the most entertaining innings played by #Azhar @azharflicks you win hearts all over again. Respect! The 3rd empire which is the audience is sure to lap up this entertainer. Congrats @EkmainaurEktu7 @SnehaRajani & #tonydsouza A special mention to @ItsPrachiDesai for delivering a difficult character with such ease & èlan ... This is one step further to your glory! Final last word about the man @emraanhashmi ... He is back & how? Brilliant portrayal of @azharflicks and is bar balla bolega. Superhit!
Idlebrain jeevi ‏@idlebrainjeevi
I watched #Azhar because I like Azhar. And curious about what really happened. I am a fan of biopics. Here are my 2 observations. #Azhar is a pro-Azhar film. At the end, it shows him in positive light and in a sympathetic way. #Azhar and Sangeetha love episodes are mushy and emotional. Not the kind of spicy and practical fling we usually expect!
Priya Gupta ‏@priyagupta999
Just watched #Azhar & what a film!!! Outstanding!!! Nothing can stop it from becoming a blockbuster!!!! @emraanhashmi @EkmainaurEktu7 #Azhar is a must watch film. @emraanhashmi 's best performance ever. Nothing can stop his nomination as best actor this year!!! .... #Azhar proves what an outstanding writer does to a film. @rajatsaroraa I bow my head in respect to your talent. Outstanding dialogues!!!
Salilacharya ‏@Salilacharya
I wudve preferred better casting esepcially for the secondary characters but #azhar has enough masala if your looking for it .@emraanhashmi pulls the swag of #azhar with ease and @ItsPrachiDesai is so vulnerable u feel like hugging her #azhar sadly wat stood out like a sore thumb for me was the production design and attention to detail #velcropads in 1983? no feel of the time as a friend said masala bahut hai chalegi .. only look aur feel of 1980s aur 90s ka nahi hai but the second half culminates well #Azhar
Bilal Siddiqi ‏@BilalS158
Just saw #Azhar. What an entertaining film. @emraanhashmi has really flicked this one out of the park. 6 on 5!
Jahnavi Patel ‏@Janhvi_Pari
#NargisFakhri is perfectly cast as #SangeetaBijlani in #Azhar as both are bombshells, fun to talk to, have mixed parentage, & CANNOT ACT! #Azhar d less said d better. Watch it ONLY if u are an #EmraanHashmi fan &/or a #MohammadAzharuddin fan Wish Kunal Deshmukh was d director
Immy parkar ‏@imtiazparker
#AzharMovie Review: 4/5 spectacular movie one of the best biopic over made in India. Emraan Hashmi Nailed it #prachi looking beautiful 4*** #AzharMovie brilliant movie awesome performance @ItsPrachiDesai as noureen @AzharTheFilm @emraanhashmi 4*** Best biopic in India @AzharTheFilm Emran awesome performance prachi gorgeous looking worth to watch @AzharTheFilm
Adeem Altaf ‏@adeemd
#Azhar is simply the most entertaining film of this year till now. @emraanhashmi 's career best. Highly recommended #Azhar has all the ingredients of being a BLOCKBUSTER. The best thing about the film is @emraanhashmi 's performance.
RJ ALOK ‏@OYERJALOK
@emraanhashmi Fully Transformed in #Azhar .Good to see you On screen Playing Flicks and fighting for The legal Battle.
Zyan ‏@thisis_illusion
#Azhar killed it. What a movie. wow, speechless, @emraanhashmi hats off. must watch. one of the best movie of 2016 @ItsPrachiDesai
HemchandINC ✋ ‏@Hemchand199
Watched @AzharTheFilm premiere in Hyd with #AzharBhai & #Abbas excellent&mustwatch movie,4/5,congrats2whole team Grt work done by @emraanhashmi ji,u we're grt in Azzubhai role,well done @ItsPrachiDesai soo beautiful #Azhar is a big block buster
Raj dutta (ar-di) ‏@itsRAJdutta
So engaging awsome mind blowing nd wt d presentation #Azhar..oh im sorry...i comment even b4 watching d movie..aw same thing @emraanhashmi thot it wd b a 50 overs film bt hrd it s a 20-20 film#Azhar tho he did nt play ds format bt if he hd played he wd b Super Hit @emraanhashmi
Raghuvendra Singh ‏@raghuvendras
Nobody is going to stand for you. It's your battle and you have to fight it alone. Well done @emraanhashmi. Loved your performance as #Azhar
#Saurabh Singh ‏@itzSaurabh786
@emraanhashmi 5 stars are not enough for you #Azhar !! This movie is inspiration for todays generation love your performance millions of ♡
I'm_Ankit ‏@AnkitSi958299
Just watched #Azhar ,What a movie..!! @emraanhashmi @ItsPrachiDesai done their job excellently. Surely its gonna blockbuster.
Adi ‏@AdityaKerkar1
#Azhar is a good movie because Emraan Hashmi has acted brilliantly. However the story remains ambiguous!
Mangesh Mehenge ‏@Mangesh_mv
The movie is nothing but justifying fixing extra marital affair and proving #Azhar innocent.. Such a shame
Shiva Satyam ‏@AsliShiva
Watched #Azhar, only one sentence to say "Don't Miss It".My ratings 3.5*.
Krunal Dodiya KD ‏@krunalofficial
Awesome dialogues and it's interesting n entertaining throughout . @emraanhashmi #Azhar #AzharJudgementDay @AzharTheFilm .
Azhar Day ‏@MayurKkc
Just Watched #Azhar and Stun by ur Performance Emmii @emraanhashmi What a Performance man.U just Killed it Congrats