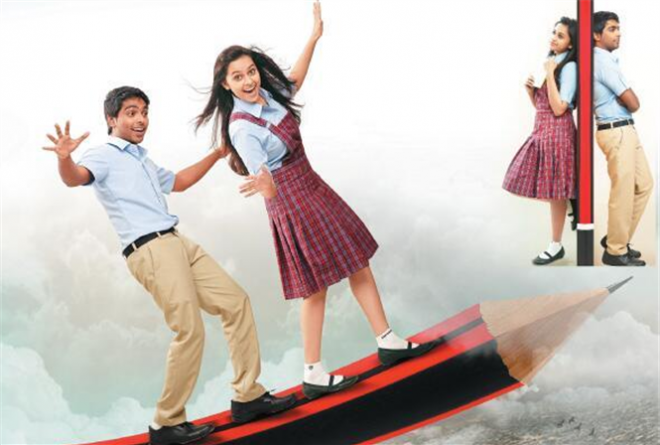 Debutante director Mani Nagaraj's Tamil-Telugu bilingual movie "Pencil," featuring GV Prakash Kumar and Sri Divya in the lead roles, has received positive reviews from the audience.
Check: Ko 2 Review | Azhar Review | Pencil Movie Stills
Written by Mani Nagaraj, "Pencil" is a crime suspense thriller that revolves around the murder mystery of a high school student. Two friends of the murdered student have to find his killer before the next class starts. How they unravel the murder mystery in 40 minutes forms the crux of the story.
The audience say "Pencil" has an interesting story that has not been explored in the Tamil and Telugu film industries until now. The movie, which offers a message to the society, is apparently a rip off of South Korean thriller film "4th Period Mystery," which was released internationally as "The Clue" is 2009. The movie is engaging and makes the viewers sit on the edge of their seats.
As high school students Shiva and Maya, GV Prakash Kumar and Sri Divya have delivered brilliant performances and the sparkling chemistry between the two is the main highlight of the movie "Pencil." Shariq Hassan, VTV Ganesh, Urvashi, TP Gajendran, Abhishek Shankar and others have done justice to their roles and their performances are among the big assets of the film, say viewers.
Photos: Funny Mistakes in 24, Theri and Vedhalam
"Pencil" has been produced by SP Ragavesh under the banner Kalsan Movies Pvt Ltd and it has brilliant production values. GV Prakash Kumar's music and Gopi Amarnath's cinematography are the big attractions on the technical front, say the film goers. We bring to you some viewers' verdict shared on Twitter. Here is the live update of the "Pencil" movie review by the audience:
Sreedhar Pillai ‏@sri50
#Pencil 2.75/5. Decently sketched murder mystery set in a school. Debutant #ManiNagaraj made it watchable inspite of some hiccups in story. #Pencil 2.75/5. @gvprakash is good in a film which was supposed 2 b his debut film (release got delayed). New kid #ShariqHaasan is riveting. #Pencil 2.75/5. Drawback - changes tracks towards the end becomes preachy. On the whole packaged with peppy numbers (GV), nice camera Gopi.
Karthi ‏@crickarthi
#Pencil interval - Murder mystery happening in high school. So far not bad.shariqhassan scores well in acting. #pencil is a good crime suspense thriller with a social message.second half is good than first half.
Aravind ‏@aravinddgreat
@gvprakash #Kannainamathey awesome lyrics catchy superb cFriend nee nambu scene pottu savan #EIPI all best for #Pencil
Samantha Purushan ‏@kaththi_Vsnu
#‎Pencil My rating:-3.75/5.00 Review:-The best school crime story sunglasses emoticon ‪#‎GVPrakash Anna Mersal acting & Music sunglasses emoticon ‪#‎SriDivya character The best role
Manoj Kumar ‏@ManojSriDivya
@i_Sri_Divya @gvprakash Watched #Pencil Semma Thriller Gv Super and Who is the hero? Sridivya or gv ? Semma Maya Srinivasan u r rocks
Surendhar MK ‏@MadrasBachelor
Half way thro #Pencil. A sloppy rip-off of Korean thriller #4thPeriodMystery so far. Some magic should happen in the 2nd half for revival.
Kollywood4ever ‏@Kollywood4ever
#Pencil first half: Really gud first half and not boring..Bgm too gud but songs seems like with repetitive tunes.. #pencil: Visuals and direction are very nice..Have interesting scenes..GV fits into role easily.. #pencil Review: @gvprakash select scripts which suites him very well..Waiting for second half. #Pencil Review: Plus: Sridivya Abishek(serial actor n anchor) @gvprakash BGM Plot
Hirran Gandhi ‏@hirrangd
@i_Sri_Divya @gvprakash Watched #Pencil Movie is really a good thriller with social message.. :) GVP & Sri divya acting superb...
Sathyan Sivakumar ‏@Actor_Sathyan
#Pencil so proud of @gvprakash his intensity, bravery & never give up attitude taken to top level. Pencil another sword in his armory.
DARMENЯ ‏@sriramusics
Another superb movie from @gvprakash anna, and awesome performance by @i_Sri_Divya #Pencil Really enjoyed the movie
TheriBaby KNA ‏@AlwaysKNA
Hat-Trick hit for our #Theribaby @gvprakash !! #Pencil rocking screenplay & climax dialogues are crispy & plus !!
Samjammy ‏@imsamjammy
Neat thriller it was a worth watching the movie #Pencil waiting next #EnakkuInnoruPerIrukku @gvprakash Semma acting bro @gvprakash want to keep on tweeting #pencil neat thriller of your debut 4/5 Dialogue presentation on educational system rocked @gvprakash 4/5 #pencil waiting for you Johnny #EnakkuInnoruPerIrukku Really you presented your character well @SUJAVARUNEE #pencil
TN 100 PERCENT ‏@arvinfido
#Pencil rockin and the climax speech regarding the current educational system is getting highlighted in all reviews.. Kuddos @gvprakash
Karthi ‏@TrendsGVPrakash
@gvprakash watched #Pencil good movie of @gvprakash suspone nd Thriller movie.,best of @gvprakash bgm Mirattal IsaiMust wacth The movie
Vivek Vivi ‏@vivekvimalraj
#Pencil is sharped wellThriller movie with fun filled ride. @gvprakash Kudos bro @i_Sri_Divya cute & holds d show crime search. climax speech is just #awesome. spoke clearly about scenario of our education system. #GoodMovie @gvprakash @i_Sri_Divya #Pencil
Saran RJ ‏@iam_saran_rj
Congratulations gv @gvprakash for #Pencil .. The thriller suits you wen u have fear in face just awesome acting.. Waiting for #EIPI Educational touch.. BGM,climax sema !! Fast thrilling screen play.. Superb acting !! @gvprakash amazing improvement..Keep rocking !! #Pencil
Cinema glitz ‏@Cinemaglitz24x7
#Pencil Review: Crime thriller.The entire story happens in a school..During investigation, scenes are interesting but logic is missing a lot Minus:2nd half..Full of logic loop holes..They are behaving like as they are in separate island.. A Decent crime thriller..Could have done even more better..My Rating:3/5
Venkat gvp ‏@venkatgv7
Pakka entertainer #pencil every scenes keeps us at edge of the seat... Another hit #thalaivanGVP @gvprakash luv u thalaivaaaa
Surendhar MK ‏@MadrasBachelor
Half way thro #Pencil. A sloppy rip-off of Korean thriller #4thPeriodMystery so far. Some magic should happen in the 2nd half for revival. A decent second half, especially the comedy elements, helps #Pencil from being a mediocre thriller. #Watchable
MoTHiROoPeShVJFvFc46 ‏@MothiRoopesh
@gvprakash Saw #Pencil #Fdfs movie ToDay Gud Thriller School Based Movie Shud Reach To Every Person about the injustice done in Schools #GV
PARTNER ‏@parthi_unoffl
Watched #pencil Superb film a summer super hit @i_Sri_Divya Vera level acting @gvprakash another hit for u bro.