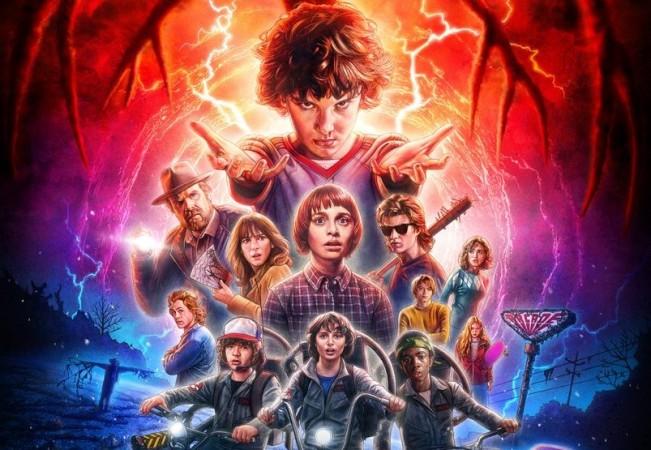 The Duffer Brothers' Stranger Things is going to get a whole lot stranger this time. Apparently, two of the lead characters will be seen forging new friendships, which may or may not lead to a full-fledged romance. And no, it's not Mike (Finn Wolfhard) and Eleven (Millie Bobby Brown) we are talking about.
Word has it, Hopper (David Harbour) and Joyce (Winona Ryder) will be romantically linked. At least, that's what Harbour hinted at in his interview with TV Guide. The actor said his character will try hard at being emotionally connectable and that that would be the fun aspect because he'd be failing at it.
"I think we'll start to see him take more risks with these new languages of intimacy and vulnerability and maybe we'll start to see that he has needs that he hasn't expressed before," Harbour told the news portal adding he wouldn't be sure of Hopper being "smooth" at it.
What's more, Netflix has dropped a teaser of Stranger Things Season 3 and it's pretty intriguing. In true Duffer Brothers style, the little over minute-long clip reveals nothing but that it's the summer of 1995 and the launch of Starcourt Mall in Indiana.
In other news, the show will apparently go on for a couple more seasons before the makers wrap it up. It's not the TRP ratings, the creators said it wouldn't be wise to stretch the storyline beyond a point.
The Duffer Brothers are clear they do not want to overstay their welcome (in terms of the popularity the show has gained over the last two seasons) and therefore were always sure of the show not turning into an endless sci-fi drama.
"There's too much to deal with in one more season. If we're able to, there will be at least four, there could be more. I think there's going to come a point where why aren't these people leaving Hawkins? Like we're going to stretch credibility. It wasn't intended to be a seven-season thing," Ross Duffer told EW.
Stranger Things Season 3 is still being shot and will not return until 2019.