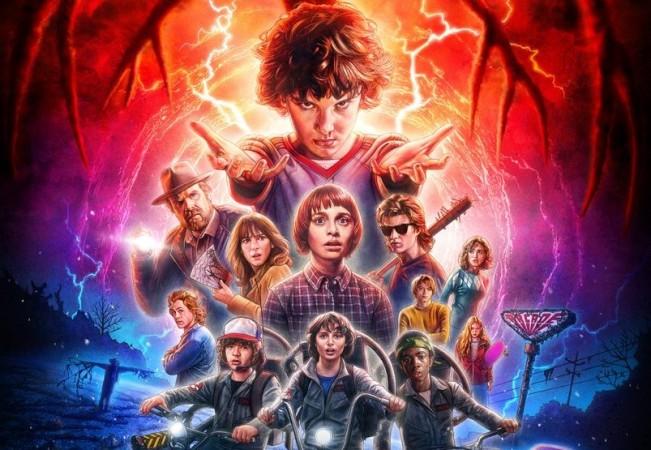 Netflix has finally dropped the first teaser promo for the highly anticipated third season of Stranger Things. The newly released teaser promo also hints when fans will be able to watch the upcoming season.
Stranger Things season 3 won't be airing until next year. Earlier today, fans of Netflix science fiction-horror drama got to see a familiar face in the form of an 80s-style commercial. The released footage showed the advertisement for the opening of Starcourt Mall in Indiana. The use of loud neon signs, welcoming consumers with extravagant attires, over-the-top hairstyles, are all shown in the teaser promo.
The mall opening footage in the released teaser shows Hawkins, Indiana. It offers a brief glimpse of fan favourite Steve Harrington (played by Joey Keery) and a new character Robin (played by Maya Hawke) working for an ice-cream parlour. Other than this, it does not divulge any plot details or character's arc. The teaser, however, did have some hidden meaning behind it.
Check out the footage:
First of all, the grand opening of Starcourt Mall is shown, summer of 1995. This led many to believe that Stranger Things season 3 will arrive somewhere in the summer of the following year. The teaser promo clip has a voiceover that claims that the Starcourt Mall is "one of the finest shopping facilities in America... and beyond." The use of the word "beyond" conceivably a reference to the Upside Down in the Stranger Things world.
Back in December 2017, David Harbour, who plays Chief of Hawkins Police Department Jim Hopper in Stranger Things, talked about the release of the subsequent season. The 43-year-old Harbour said fans wouldn't be able to see the next season until sometimes in 2019 as the show's creators, The Duffer Brothers, need time to write the sci-fi series.
"Those guys work so hard," he had said. "I mean, they just sit in their apartment and write for 12, 14 hours a day."
Meanwhile, while speaking to Variety, Millie Bobbie Brown talked about the future of her iconic character Eleven. Brown stated that the upcoming season will be more like a coming of age for her character and how an adolescent girl usually reacts to certain situations.
"It's a beautiful storyline for Eleven this season," she added.
Fans are still wandering in the bewilderment about the plot details and the exact release date. As of now, many are expecting to get some inside news during the San Diego Comic-Con this weekend.