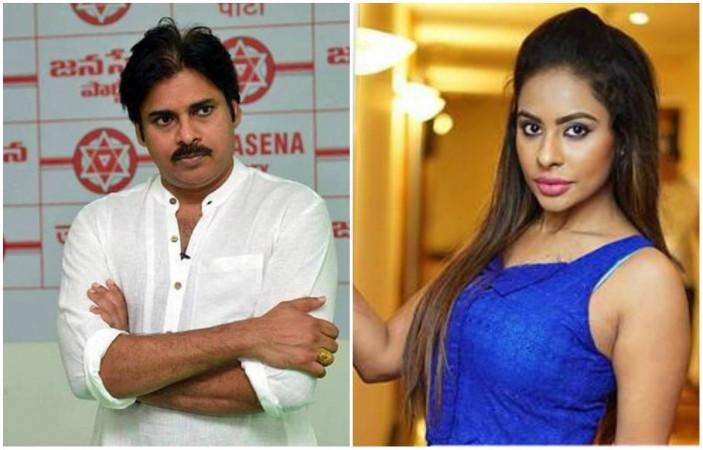 Sri Reddy doesn't seem to be interested in ending the issue anytime soon with Pawan Kalyan as the actress continues to spit venom against him. From his personal life to political career, the budding talent is bringing in all the issues to target the Power Star.
In her latest rant, Sri Reddy has claimed that the special status for Andhra Pradesh will not be attained through hooliganism. She took potshots on his married life and his comments for having a debate on legalising prostitution.
The former TV anchor made an interesting comment when she said that she has more respects for his mother Anjana Devi than him. The budding actress also said that she will use his mother's name for the women wing fighting for the yet-to-formed committee against sexual harassment in Tollywood.
Sri Reddy had recently called Pawan Kalyan a "mother f***er" and flashed her middle finger. It was her response to the actor's advise on approaching the police to solve the sexual exploitation issues rather than resorting to sensationalism.
Her act created outrage in Tollywood and among the actor's fans. The situation turned worse after Ram Gopal Varma entered the troubled water by claiming that he instigated her to say those words.
Both Varma and Sri Reddy have apologised for creating the controversy.
Meanwhile, Pawan Kalyan took to his Twitter page to respond to Sri Reddy's comments and claimed it to be a political conspiracy. In a series of posts, he went on to talk about the TDP members, who hatched the plan against. The Power Star tweeted, "Before becoming an actor or a political party leader I am a son first.. As a Son.. If I could not safeguard the honour of mother i better die than live.."
He is reportedly forming a legal team to handle the issue.
Sri Reddy shot to limelight by talking about casting couch and sexual exploitation issues earlier this month. She shocked the industry when she stripped in public and accused a few celebrities, including Suresh Babu's son Abhiram Daggubati, of sexploitation.