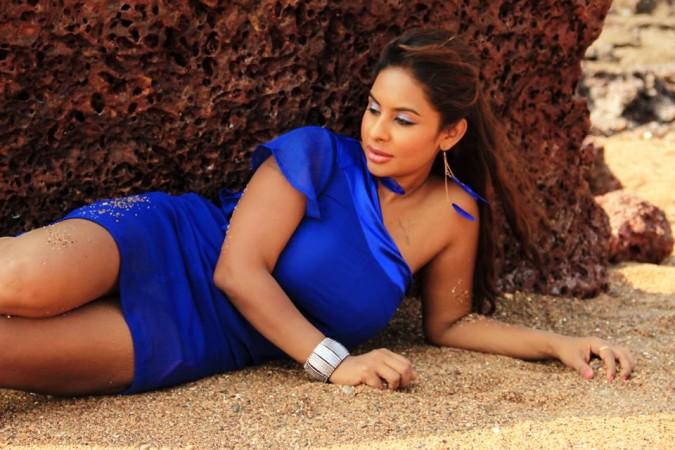 Sri Reddy has slammed Pawan Kalyan over his recent advice to her on handling the casting couch and sexual exploitation issue in Tollywood. The actress has used derogatory language against the Power Star of Tollywood and has shown her middle finger to him in public.
Speaking to media, Sri Reddy demanded Pawan Kalyan to send a message to his fans not to troll her online. She dramatically beat herself for considering Pawan Kalyan like her brother.
"I am hitting myself with my slippers for calling him my brother. No women should treat you like their brother," Sri Reddy said and abused him with foul language. She showed her middle finger before storming out.
Pawan Kalyan had earlier told media that rather than sensationalism, Sri Reddy should immediately go and file complaints with the police. "Instead of protesting in this manner on the roads, they should go to the police and say that injustice has been done. Let them handle it," Pawan Kalyan had said while talking about the allegations made by Sri Reddy over the casting couch row.
Sri Reddy's comments are now being criticised by social media users. "#SriReddy's language & gesture against #PawanKalyan is highly deplorable! Quite a shocker! Unacceptable!" a fan wrote on social media.
Ram Gopal Varma has again defended Sri Reddy by tweeting, "Any act of rebelliousness will always shock people and they will negatively react to the rebel as a person rather than trying to understand the cause behind it ..This is true of Che Guevara @MsSriReddy and also @PawanKalyan Its unfortunate but unavoidable in today's times."
Sri Reddy has created an uproar in Telugu film industry by protesting against issues bothering women in Tollywood. A month ago, the former TV anchor had started off by speaking about casting couch and hit national headlines when she stripped in front of the Telugu Film Chamber of Commerce claiming sexual exploitation and discrimination against local talent.
She upped the ante after being denied membership to Movie Artists Association and made sexual exploitation allegations against a few celebs including Abhiram Daggubati, the son of leading Telugu producer Suresh Babu. With the intervention of the National Human Rights Commission, the actors' guild agreed to give her membership and promised to set up a sexual harassment redressal forum for women.
Sri Reddy's movement gained momentum after 15 other junior artistes supported the cause and opened up on their stories on sexual harassment.