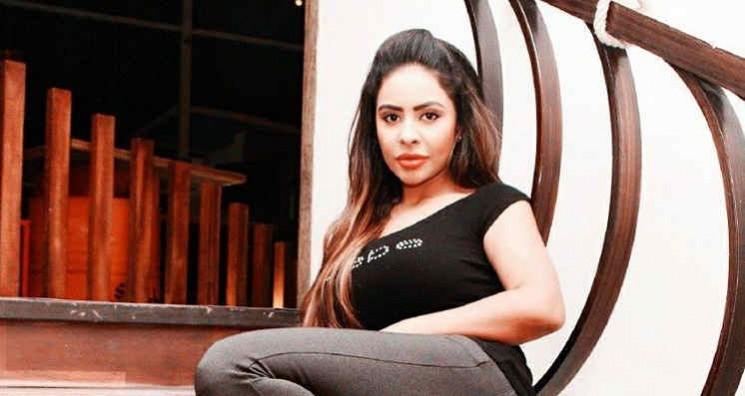 Actress Sri Reddy accused Tamil actress Khushboo's husband Sunder C, of sexual exploitation, but the Kollywood filmmaker denied her charges and said that he would take legal action against her.
After talking about sexual exploitation in Tollywood, Sri Reddy has been making random allegations against some personalities in the Tamil film industry from the last one week. She has already alleged that AR Murugadoss, Srikanth, Raghava Lawrence, and Sandeep have exploited her in the past. On Monday, the actress took to Facebook to talk about how Sundar C asked her for favours.
Sri Reddy claims that executive producer Ganesh introduced her to Sundar C during the shooting of Aranmanai in Hyderabad. They assured her that she would be made the female lead in their next movie in exchange of sexual favours. But they did not give her any role in their films.
Sri Reddy wrote, "Aranmanai shoot happend in Hyderabad,while that shooting time one person called Ganesh he is an executive producer of that film..some how he got my number through some one,he called me,I went to the shooting spot he introduced me to sundar c..I met my f.b Frd senthil kumar(camera man) also..that day he convinced me that definitely 200 percent you wl be in his next movie as a one of the lead .. next day he called me to the novotel,for keeping in his next movie he and sundar c wanted to compromise (sexually)..after that perumal knows what happend.. Ganesh is a fraud he didn't help me..#tamilleAks".
Sundar C is a well-known director, producer and actor from the Tamil film industry. He has directed over 30 films in Tamil and also acted in over 20 movies as the protagonist. He is known for his clean image and he has always stayed away from controversy. Sri Reddy's wild allegations against him have come as rude shock to the people in the Tamil film industry.
Sundar C responded to Sri Reddy and refuted her allegations. He said he would take legal action against the actress for her derogatory remarks against him. The actress immediately replied and wrote on her Facebook page, "Director Sundar c sir's issue I hv to give a clarification.."