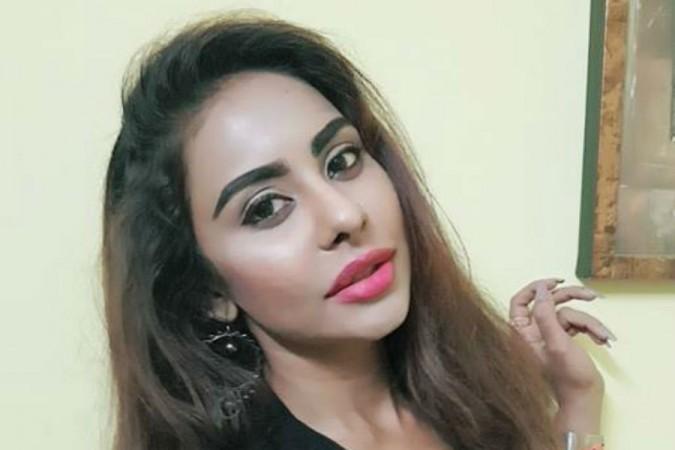 Actress Sri Reddy kept the hashtag #tamilleaks trending on social media, as she has gone on to expose another Kollywood hero named Sandeep and called him a fraud and dirty guy on earth.
Earlier, Sri Reddy revealed that ace Kollywood director AR Murugodass, actor Srikanth and Raghava Lawrence asked for sexual favours in exchange for acting in their movies, but they cheated her. Her revelations sent shock waves in the Tamil film industry. She vowed that she would expose more celebs from the industry.
Sri Reddy took to her Facebook on Sunday to talk about another Tamil celeb. The actress wrote, "such a fraud nd such a bad attitude guy..such a dirty guy on the earth..U b***dy stinky di..k,he need every women as his di.. k lover..suffered at this nasty person..thu ..he is non other than tamil hero sandeep kishanal #tamilleaks [sic]"
Sri Reddy has been fighting against sexual harassment and casting couch in the Telugu film industry, but her protest has not got expected any results except creating ripples in media. The actress decided to target Kollywood and hopes to get justice at least from the Tamil film industry.
Sri Reddy posted on Facebook on July 14, "Tollywood failed to solve this casting couch problems, they all r spoons of bigwigs they work fr big wigs only,girls are only sex workers fr them ,they wl not care about women problems..nd they didn't keep cash committee still..they declined to give the maa card fr the stupid reason,then maa assosiation has to tell me ,maa has 900 members na..u declined my maa card fr i hv a case on me..900 people in maa don't they hv cases on them ..drugs,cards,attempt murder,cheque bounces,cheating ,financial lot many..why still they have card??still tollywood bigwigs threatening me..this shouldnt happen wt kollywood..I hope I wl get justice in kollywood [sic]"
Later on Saturday night, Sri Reddy added, "Respected c.m Kcr sir ,please sir respond..how many days still we have to suffer on it??even political leaders also there in it..who used to take drugs, who used to sleep with film heroines..i can't touch that honeybee nest..if I reveal, I know I wl not get justice top on that ,that politicians will kill me..sir i am not safe,its tough to reach u ,in this drugs nd sex racket ur dear persons also there..I am not coming to political side..i wl shut my mouth..but please sir ,this maa association nd big wigs harrased me physically,mentally.. you are a father nd u r a king of this telangana.. situations became worst from my side.. you should understand and keep a full stop nd make a justice to me..don't protect the big wigs..it's a thousands of vaginas question..please try to reach this post to respected c.m sir..please don't ban me from Hyderabad sir,I am telling truths..[sic]"