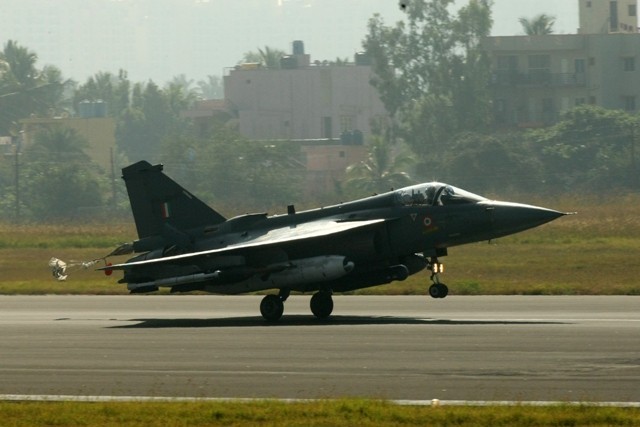 India's indigenous fighter, the light combar aircraft (LCA) Tejas, has attracted the interest of foreign countries like Sri Lanka and Egypt, PTI reported, quoting defence sources. However, Hindustan Aeronautics Limited (HAL), the maker of the fighter aircraft, will initially deliver the jets to its first customer, Indian Air Force (IAF), and is gearing up for its serial production.
The IAF is expected to go in for 120 LCA Tejas, out of which 100 will be upgraded. HAL will initially produce six aircraft and eventually scale up to eight and later to 16 aircraft annually.
"While there is an interest which has been shown (by other countries), let us get the product first to our own customer. The confidence that will come to others when our own Air Force flies it will be immense. So at first, we should at least meet the initial requirement of the IAF," HAL Chairman T Suvarna Raju told PTI.
Though Raju did not share any details about the countries that were interested in the aircraft, he was quoted by PTI as saying the "current version [of LCA Tejas] is more than enough" for smaller nations. This suggests that these countries prefer the current LCA Tejas and not the upgraded versions.
Meanwhile, defence sources told PTI the two countries that had evinced interest in LCA Tejas are Egypt and Sri Lanka.
Sri Lanka has existed as a possible buyer of LCA Tejas for some time, especially after the county pulled out of a possible deal with Pakistan to buy the JF-17, a lightweight multi-role combat aircraft built jointly with the Chinese.
Egypt has been looking at France for its modernisation process and in 2015 had ordered 24 Dassault Rafales. India, too, is inching closer to seal a deal with France over the sale of 36 Rafales.
Raju had revealed earlier that LCA Tejas had received inquires during the Bahrain International Airshow 2016. This was Tejas' first participation at an international event in a foreign country.
Two factors that stand out for LCA Tejas are its lower costs and "terrific" flying ability in its class, the report noted.
Raju noted that an upgraded Tejas would include Active Electrically Scanned Array (AESA) Radar, Unified Electronic Warfare (EW) Suite, mid-air refuelling capacity and beyond-the-vision-range missiles, costing between Rs. 275 crore and Rs. 300 crore.