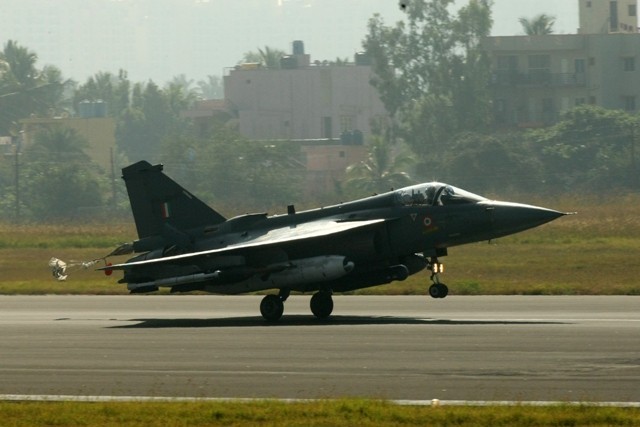 LCA Tejas had its first outing outside India at the recently concluded Bahrain International Airshow. This was for the first time that India displayed the acrobatic abilities of its indigenously developed LCA Tejas, a single-jet engine, multi-role light fighter that has been in development for some time now.
Following reports that LCA Tejas had impressed many of its participants with its agility, T Suvarna Raju, HAL chief, has revealed that several countries enquired about the new aircraft from India, as it has a good export potential. He, however, has not disclosed the names of these countries.
"We have got inquiries for LCA already," the Press Trust of India quoted Raju as saying. When probed for country names, he said: "Believe us when I say there are inquiries for LCA."
The LCA Tejas was seen performing 8-G (gravity) pull, vertical loop, slow fly past and barrel roll and the officials present at the event termed the flight a "historic event".
The Bahrain Airshow also showcased the acrobatics of the Sarang Helicopter Display Team using modified HAL Dhruv helicopters.
While all the focus was on LCA Tejas' performance, the absence of Sino-Pakistani collaboration fighter jet JF-17 Thunder was evident. The JF-17 Thunder, which pulled out of the event in the 11th hour, is already available in the open market. Pakistan recently claimed that Sri Lanka was interested in the aircraft, but eventually backed out.
READ: Sri Lanka backs out of buying Sino-Pak JF-17 Thunder: India to transfer MiG-27 jets instead?
For the Bahrain International Airshow, India had sent two Limited Series Production (LSP) LCA Tejas that is of light weight variety, due to to the addition of composite materials and is a 4+ generation aircraft with supersonic capability.
The LCA Tejas is expected to clear is Final Operating Certificate (FOC) sometime in March 2016. Indian Air Force (IAF) has plans to acquire about 120 of these aircraft, but wants over 100 major modifications to it.
Raju also added that HAL would comply with IAF requirements and will increase the series production of the aircraft from 8 to 16 units per annum. He also assured that the first aircraft with the requisite modifications will be made in 2018 and passed on to the IAF.
The Indian defence labs are also developing a naval version of the Tejas -- the LCA Navy -- and in December 2014, it successfully conducted ski-jump trials.