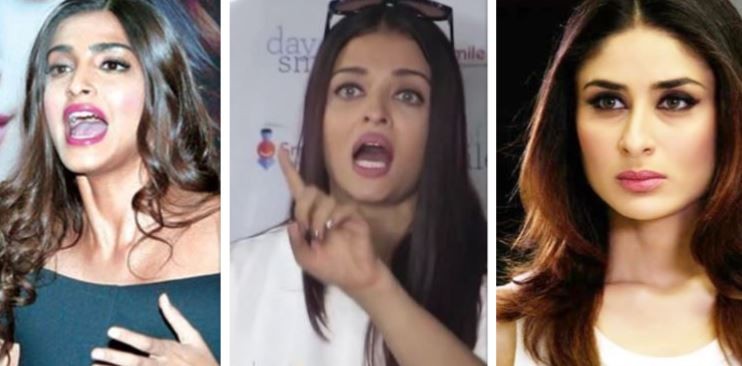 Sonam Kapoor to Kareena Kapoor, let's take a look at 5 times actresses took nasty, sly digs at Aishwarya Rai Bachchan
Sonam Kapoor: Back in 2011, when Sonam was still reeling under her foot-in-the-mouth syndrome, she took a dig at Aishwarya by calling her "aunty". Now, we all know "aunty" is nothing less than a sin word in the industry but, Sonam had logic behind this. She had said that since Aishwarya had done a lot of films opposite her father Anil Kapoor, it was obvious for her to call Ash aunty.
Kareena Kapoor: Kareena Kapoor and Aishwarya Rai have always been pitted against each other ever since Aishwarya left Madhur Bhandarkar's 'Heroine' which finally went onto Kareena Kapoor. The comparisons between their pregnancy, illustrious careers, and children never stopped. In 2012, Kareena Kapoor called Aishwarya an actress from "another generation."
During the press conference of 'Heroine', a reporter had asked Kareena how different the film might have been if Aishwarya had resumed the lead role. Kareena had said, "Ash is a wonderful actress and an icon of our country. It is very unfair to compare us, we're from two different generations."
Sonam Kapoor: In 2016, Sonam Kapoor didn't shy away from taking a sly dig at Aishwarya Rai's purple lipstick at Cannes. She said, "The whole idea of fashion and makeup is for people to discuss it and I guess she wanted to be discussed. She achieved what she wanted to achieve with it, which I think is great."
Rani Mukerji: As per a report in Filmibeat, talking about Aishwarya Rai's pregnancy, Rani Mukerji had said, "We, Indian women, get too carried away with our personal lives with rearing our children. We feel that we are the only mothers on the planet. And, we believe we have to leave everything to bring up our children. Actresses need to pull up their socks and keep looking great and working out and keep looking younger than what we are. I would like to be the Meryl Streep of India. I would like to balance work and family."
Mahira Khan: Pakistani actress Mahira Khan had made news when she liked a tweet making fun of one of Aishwarya Rai's Cannes outfit. However, clarifying the stance, the actress said that she had only liked a tweet which praised her dressing style.