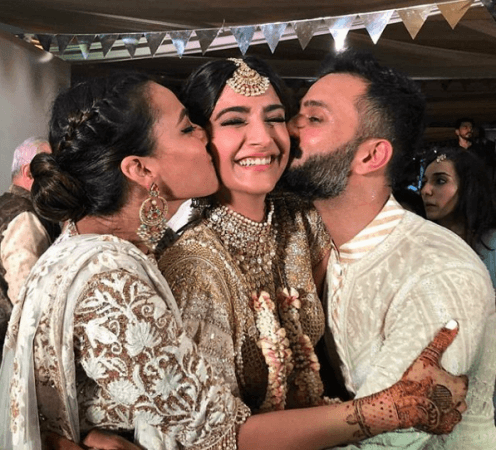 Sonam Kapoor's and Anand Ahuja wedding is the talk of the town. We earlier saw how the Kapoor family made the grand preparations for the ceremony.
The sangeet and mehendi ceremonies were a star-studded affair. The wedding will be conducted as per Sikh traditions on May 8 between 11am to 12.30pm in Bandstand Bandra, Mumbai.
After the wedding, a party at The Leela Mumbai is planned. The theme for the wedding is Indian traditional and for the party, Indian traditional or western formal. Everyone is really excited to see Sonam Kapoor's bridal attire especially after her stunning look at the pre-wedding ceremonies.
The guests started arriving at the venue and they look amazing. Anil Kapoor looks like a handsome king ready to get his princess married. All the celebrities are posting their wedding outfits on Instagram.
Kareena Kapoor Khan and her husband Saif Ali Khan along with their son Taimur, Karishma Kapoor look amazing. Taimur looks absolutely adorable with all his hair tied back into a cute ponytail.
Anand Ahuja dressed up in Punjabi style. He wore a beige sherwani with a matching turban decorated with ornaments. He looked really dashing.
Meanwhile, Sonam Kapoor is ready and one the way to the venue and her attire is heavily guarded by black curtains in her car. She made sure that no one gets even a glimpse before the right time. Reportedly, she is likely to wear Anamika Khanna but to be sure we will have to wait and watch.
Earlier the Kapoor and Ahuja families issued a joint statement that read, "From the Kapoor & Ahuja families, The Kapoor & Ahuja families, take great joy and pride, in announcing the marriage of Sonam & Anand. The wedding will take place on the 8th of May in Mumbai. Since it is an intimate affair, we request you to respect the family's need for privacy. Thank you for all your blessings and love, as we celebrate this special moment in our lives. Thanks & Regards."
Check out the pictures: