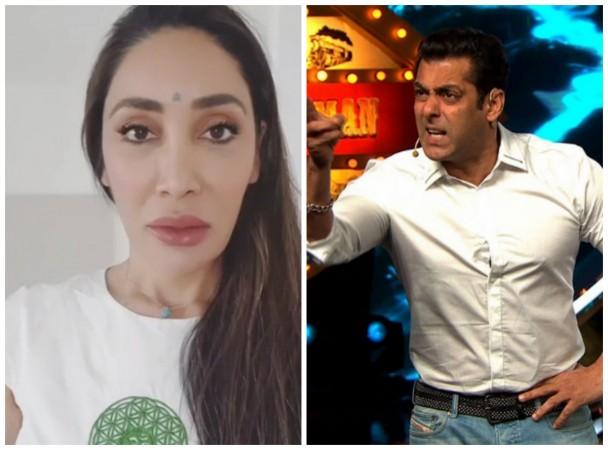 At a time when the country is witnessing massive outrage against the rape and murder of an 8-year-old girl in Kathua, model turned nun Sofia Hayat indirectly blamed Salman Khan and TV shows like Bigg Boss for the rise in crimes against women.
Sofia posted a number of videos on Instagram, expressing concern at the rape and murder of the Kathua girl in particular, and rise in such crimes in general. In one of the videos, Sofia narrated how TV shows influence such crimes, and targeted Salman for allegedly not standing up for her when Armaan Kohli had abused her in Bigg Boss. Citing Salman's example, Sofia requested other stars to stand up for women who face such atrocities.
"Why do women get so much of disrespect? In this case it was even a child. These TV shows that you people watch have a lot of influence, and the stars also have a lot of influence. When I was in Bigg Boss, Armaan (Kohli) had abused girls, had been physical with me also, but Salman Khan remained silent. He didn't do anything about it. I want to tell all those stars that whenever any atrocity is carried out on any woman or child, you must stand up for them. We need to change the way the country thinks. This is not about religion, a program is being sent to people's minds through TV shows, media and politics. We have to stop all these," the former Bigg Boss contestant said.
In other videos she is seen urging people not to fight and commit such crimes in the name of religion. Sofia asked people to stand united against rapes, and avoid any TV shows or other medium that by any means encourage disrespect or violence toward women.
This is not the first time that Sofia targeted Salman. She had made another post on Instagram saying that she was happy about Salman being sentenced to five years in jail in the blackbuck poaching case.
"Karma gets you in the end...Many people are afraid to talk against Salman because they think he controls Bollywood. Well, I no longer serve my ego and therefore am not afraid to speak up. I am so happy that Salman has gone to jail for what he has done. Animals are so important to this planet and doing what he did and then mocking it was a huge act of his own self importance," she had posted.
Later, when the superstar was granted bail, Sofia had made another post, expressing disgust at Salman's bail grant.
"The important papers submitted by Salman Khans lawyers to get him bail. Ahh..if everyone had these kind of papers..there would be no need for court systems or judges or even a justice system! Well done India!! You have proved that corruption in India is far stronger than any sort of justice. So..inject yourself with steroids, teach the young its ok to kill animals and people and abuse women..throw a few dance moves in pants that are far too tight.... and as long as you have these documents..you are king in India," she had posted with an image of bundles of currency notes.