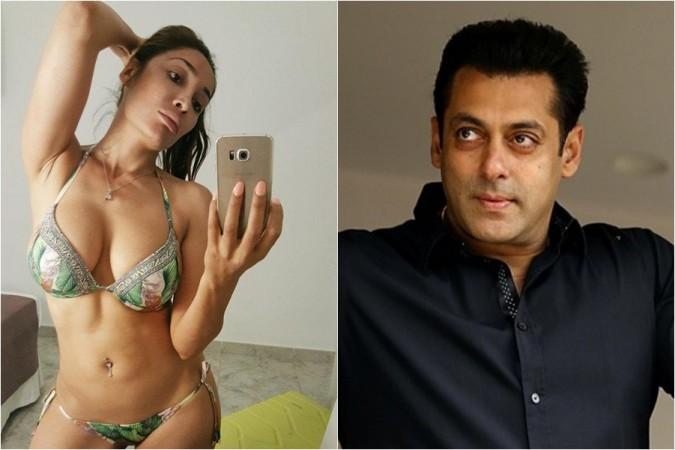 When Salman Khan's fans have been celebrating his homecoming after he was granted bail Saturday April 7 by a Jodhpur court in the 1998 blackbuck poaching case, former Bigg Boss contestant Sofia Hayat seems to be unhappy with the court's decision. She has now accused the Tiger Zinda Hai actor of buying off his bail for freedom.
The model-turned-actress posted a picture on her Instagram showing bundles of cash lying on a table and said that these important documents were submitted by Salman Khan's lawyers that helped him get a bail.
Read the full unedited text of Sofia's post here:
"The important papers submitted by Salman Khans lawyers to get him bail. Ahh..if everyone had these kind of papers..there would be no need for court systems or judges or even a justice system! Well done India!! You have proved that corruption in India is far stronger than any sort of justice. So..inject yourself with steroids, teach the young its ok to kill animals and people and abuse women..throw a few dance moves in pants that are far too tight.... and as long as you have these documents..you are king in India!
"They say Tiger Zinda hai..but in reality it is an endagered species...soon to be extinct .. let the real hearts rise..I am so sorry to all of you who actually had hope in the Indian Justice system. Keep fighting for the truth..because the truth prevails in the end. Namaste Shalom salaam."
When Salman was sent to the Jodhpur Central jail a couple of days ago, Sofia had expressed her happiness in a long post on Instagram saying that Karma gets you in the end.
Sofia Hayat's hatred for Salman goes back to the time when she got into a fight with Armaan Kohli during her stint in Bigg Boss 7. After her eviction, Sofia filed a police complaint against Armaan at Lonavala police station accusing him of physically assaulting her on the controversial reality TV show. The Jaani Dushman: Ek Anokhi Kahani actor was then taken into custody following her complaint but was released later.
And when Salman offered Armaan a role in his 2015 family drama Prem Ratan Dhan Payo post his stint in Bigg Boss 7, Sofia lambasted the Dabangg Khan for being biased and supportive toward Armaan.
"Bigg Boss always shows us at some level what is going wrong in society. For example, my story highlighted the abuse of women by men in India and how nothing is ever done about it, no matter how hard women fight for justice. Armaan was employed by Salman Khan himself, in the end, cementing the idea that women abusers stick together. Salman had an opportunity to show the public that abusing women is wrong. He chose not to because he himself has abused women," Sofia had told an entertainment portal then.