Tennis great Serena Williams conceded she had struggled a lot to return to the highest level after the difficult birth of daughter Alexis Olympia in September 2017.
Williams cut an emotional figure after a straight-set defeat to Angelique Kerber in the women's singles final of Wimbledon 2018 on Saturday, July 14. While insisting she was not disappointed with the result, the 37-year-old dedicated the inspiring run in the grass-court major to fellow mothers.
Williams endured trying times at the start of the ongoing season as she had failed to get fit in time for her Australian Open title defence. Wimbledon was only the fourth tournament she featured in the year and the first since withdrawing from French Open fourth round in June due to a right pectoral injury.
Williams: 'If I can do it, they can do it'
Elaborating further on her short on-court address to fellow mothers, Williams, during the post-match press conference, said: "I just like to tell all the moms, like, I had such a long struggle to come back, and it was really difficult. Honestly, I feel like if I can do it, they can do it.
"I'm just that person, that vessel, that's saying, 'You can be whatever you want to be.' If you want to go back to work, and to me after becoming a mom, I feel like there's no pressure to do that because having a child is a completely full-time job," she added.
"To those that do want to go back, you know, You can do it, you can really do it. It was a great opportunity for me.
"You know, I didn't know a couple of months ago where I was, where I would be, how I would do, how I would be able to come back. It was such a long way to see light at the end of the road kind of."

Williams was bidding to win a 24th Grand Slam title that would have put her on top of the all-time list along with fellow great Margaret Court. She was also in line to become only the fourth mother after Court, Evonne Goolagong Cawley and Kim Clijsters to win a major title in the Open Era.
Despite finishing second best in the final, Williams has shown the world she is close to her best with a near-perfect run to the final. The former world number one had lost only one set before her 6-3, 6-3 loss to Kerber.
The German southpaw was clinical with her forehand returns and movement on-court as she completely dominated the final. She broke Williams' serve thrice in the first set and never looked back from thereon.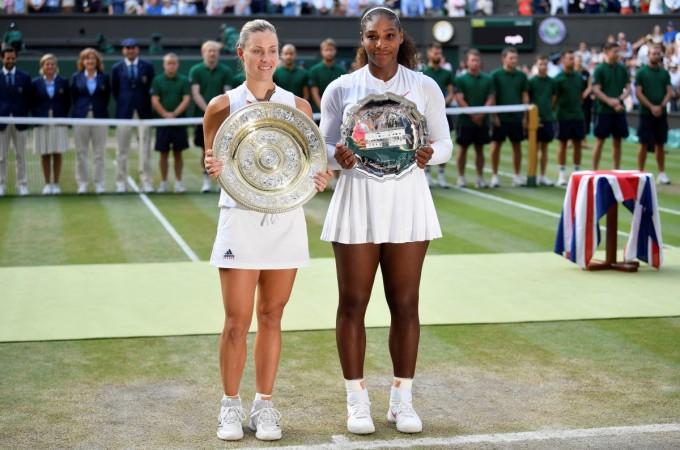 Williams still hungry for more!
Williams, who will rise 153 spots up the WTA ladder to 28, insisted that the last two weeks at the All England Tennis Club has come as a big boost. She expressed confidence that she would continue to improve in the coming weeks.
"I took some time off to train and get ready for the Grand Slams. I definitely am going to continue to play and just work on my game, work on staying in there," Williams added.
"I'm already deciphering what I need to improve on, what I need to do, what I did wrong, why I did it wrong, how I can do better, that whole madness that goes on in my mind," she said. "Then I'm saying, 'Okay, I do improve with losses. We'll see how it goes.'
"I think these two weeks have really shown me that I can compete. Obviously, I can compete for the long run in a Grand Slam. I can come out and be a contender to win Grand Slams."