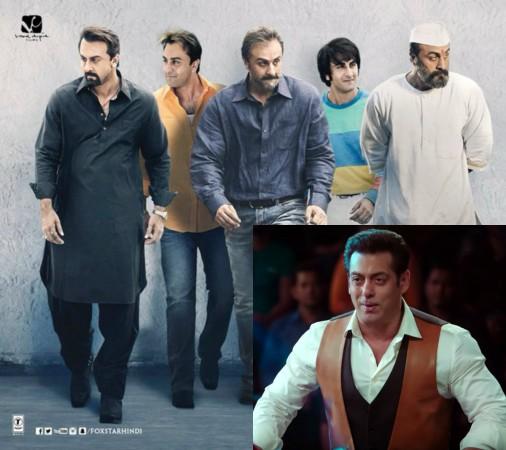 Bollywood actor Ranbir Kapoor is gearing up for his upcoming film Sanju, a biopic of actor Sanjay Dutt. The film is going to release on June 29th. The trailer of the film has got a lot of reviews and reactions from fans and other Bollywood stars.
Salman Khan had recently made a statement at the promotional event of his film Race 3, where he said that there is no actor that can do justice to Sanjay's role than Sanjay himself.
"Whenever Sanju wants to make a comeback, he will. It is all left to Sanjay Dutt, the day he thinks 'I want to come back, he will be back.' Even for the movie Sanju, I thought why did somebody else play his part. No one can do justice to that. The last bit of the film, Sanju only should have played it himself. The last portion of the last eight to ten years, Sanju only should have done it," said Salman to the media.
Ranbir had reacted to Salman's comment in a media interaction. The Sanju actor was quoted by CNN News18 saying, "It has never happened that a person played himself in his own biopic. This destroys the effect of a character. I knew that I will be compared to Sanjay Dutt and that is why I have tried my best to do justice to his role."
Now, the director of the film Rajkumar Hirani also gave a response to Salman's comment in an interview with Filmibeat.
He told the daily, "The thought of Sanjay as his older self in the film's final portions had crossed my mind for a moment, but then I let it go as I felt it would be too abrupt and weird. For one, you are seeing Ranbir as Sanju throughout most of the film, and then suddenly, you see Sanjay playing his older self, which would have automatically disconnected the public's link with the film."
Ranbir Kapoor starrer film Sanju also has Sonam Kapoor, Anushka Sharma, Manisha Koirala, Diya Mirza, Vicky Kaushal and others. The film's trailer got a really good response from the audience and the fans can't wait for the release of the film.