Ranbir Kapoor's Sanju has made a record-breaking collection at the India box office in the second week, but it has fallen short of Rs 6+ crore net in crossing Rs 300 crore mark in the domestic market.
Having collected Rs 202.51 in the first week, Sanju witnessed a steep decline in its numbers on is second Friday. Since there were no competitors, the Rajkumar Hirani-directed biographical movie was expected to do well. Hence, the drop came as a big surprise for many in the Hindi film industry.
But Sanju showed huge growth in its collection on its second Saturday and Sunday. These numbers were much bigger than the first-day collection of all the big ticket release of 2018. The movie witnessed dip on its second Monday and it continued to drop on the following weekdays.
Sanju has collected Rs 91.22 crore net at the Indian box office in the second week and its 14-day total collection stands at Rs 293.73 crore net in the domestic market. Its gross total stands at Rs 376.58 crore.
The breakup of its second-week collection is Rs 12.90 crore on Fri, Rs 22.02 crore on Sat, Rs 28.05 crore on Sun, Rs 9 Mon, Rs 7.50 crore on Tue, Rs 6.25 crore on Wed and Rs 5.50 crore on Thu.
Trade observer Sumit Kadel tweeted, "#Sanju Collected MAMMOTH ₹ 93 cr nett on its Second week. Big banner films with notable star cast could not manage to collect this much on their First week. Sanju achieved this tremendous feat on a non festival period which makes its even more special & rare. HISTORIC."
Sanju needed to collect Rs 97.49 crore net to surpass Rs 300 crore mark at the domestic market in the second week. Trade analyst predicted even if it witnesses 50 percent drop, the movie would easily cross this historical benchmark. But the movie has failed to do it, as it needs to rake in another Rs 7.27 crore.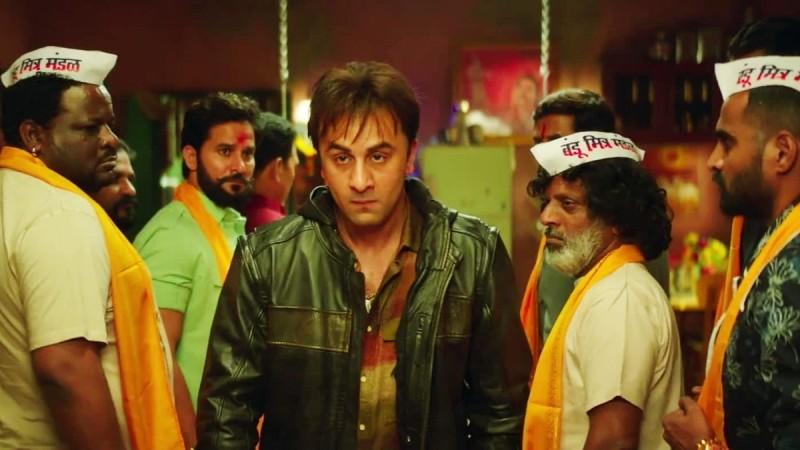 Sanju sees a major threaat in Soorma, which has been released in 1,100 screens today. The Diljit Dosanjh starrer is also a much-talked-about biopic that is based on the life of hockey player Sandeep Singh. The new release would surely become the first choice for many and eat away the share of the Ranbir Kapoor starrer. But it will not be able to stop the latter from crossing Rs 300 crore mark in the third week.
However, it should be seen whether Sanju would beat the lifetime records of Padmaavat and Sultan and become the sixth highest grossing Hindi films of all time. Here is the list of all-time highest grossing Hindi movies in the domestic markets. These numbers are based on various reports. All the collection figures are in crore rupees.
| | | | | | | |
| --- | --- | --- | --- | --- | --- | --- |
| Rank | Movie | Release | Day 1 | Weekend | Week 1 | Lifetime |
| 1 | Baahubali 2 | 28 Apr 2017 | 41 | 128 | 247 | 510.99 |
| 2 | Dangal | 23 Dec 2016 | 29.78 | 107.01 | 197.54 | 387.38 |
| 3 | PK | 19 Dec 2014 | 26.63 | 95.41 | 183.09 | 340.8 |
| 4 | Tiger Zinda Hai | 22 Dec 2017 | 34.10 | 114.93 | 206.04 | 339.16 |
| 5 | Bajrangi Bhaijaan | 17 Jul 2015 | 27.25 | 102.60 | 184.62 | 320.34 |
| 6 | Padmaavat | 25 Jan 2018 | 24 | 114 | 166.50 | 302.15 |
| 7 | Sultan | 06 Jul 2016 | 36.54 | 180.36 | 229.16 | 300.45 |
| 8 | Sanju | 29 Jun 2018 | 34.75 | 120.06 | 202.51 | 293.73 |
| 9 | Dhoom 3 | 20 Dec 2013 | 36.22 | 107.61 | 188.99 | 284.27 |
| 10 | Krrish 3 | 01 Nov 2013 | 25.50 | 72.8 | 166.52 | 244.92 |
| 11 | Kick | 25 Jul 2014 | 26.40 | 83.83 | 164.09 | 231.85 |
| 12 | Chennai Express | 09 Aug 2013 | 33.12 | 100.42 | 156.70 | 227.13 |
| 13 | Prem Ratan Dhan Payo | 12 Nov 2015 | 40.35 | 129.77 | 172.82 | 210.16 |
| 14 | Golmaal Again | 20 Oct 2017 | 30.14 | 87.60 | 136.07 | 205.69 |
| 15 | 3 Idiots | 25 Dec 2009 | 12.78 | 40.65 | 79.07 | 202.95 |