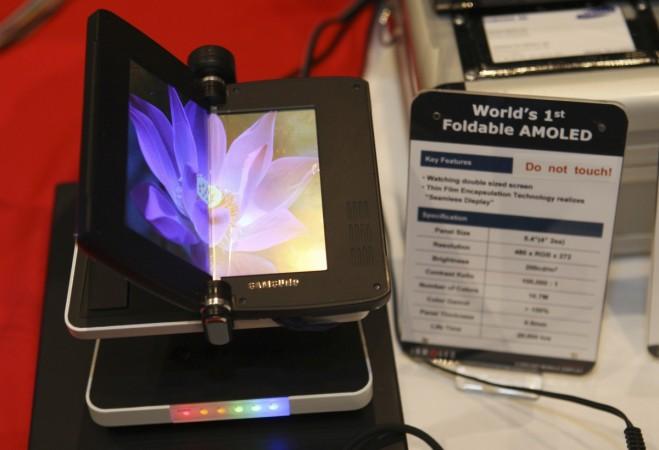 Rumours surrounding Samsung's mysterious foldable smartphone have been around for quite some time now. But if a new report is to be believed, there are still many months to go before the device finally makes its debut.
According to a report from ET News, the South Korean tech giant is planning to finalise the design of the foldable display for the smartphone in March, followed by the mass production of the panels in September.
When it comes to the handset, it could enter mass production in November while an official announcement of the phone could take place in December, or sometime in early 2019, the report said.
Anonymous sources also revealed to the publication that the phone's foldable OLED display will measure 7.3 inches, and will allow users to fold it inward and outward to use it as a phone and a tablet, respectively.
The report also said Samsung Display will produce the foldable screen which the company is expected to show off to "major customers" behind closed doors at the ongoing Consumer Electronics Show (CES) in Las Vegas.
This is not the first time when Samsung is speculated to showcase its foldable smartphone technology at the CES 2018. Media reports in December said the company could indeed provide a glimpse of the foldable smartphone to "a few lucky folks" at this year's CES.
Although Samsung hasn't said anything about its CES plans for the foldable smartphone, it did recently announce that its first foldable phone would debut in 2018.
"We have a plan to adopt a foldable display in our roadmap. We are currently addressing some technological hurdles to commercialize such a device," Koh Dong-jin, the president of the company's mobile business, said in September last year. "We will launch a foldable device when we are fully ready, and we are aiming to do so next year."
A report from last week also suggested Samsung's foldable smartphone would feature a pressure-sensitive display, which would be able to determine the amount of pressure whenever the user touches the screen.