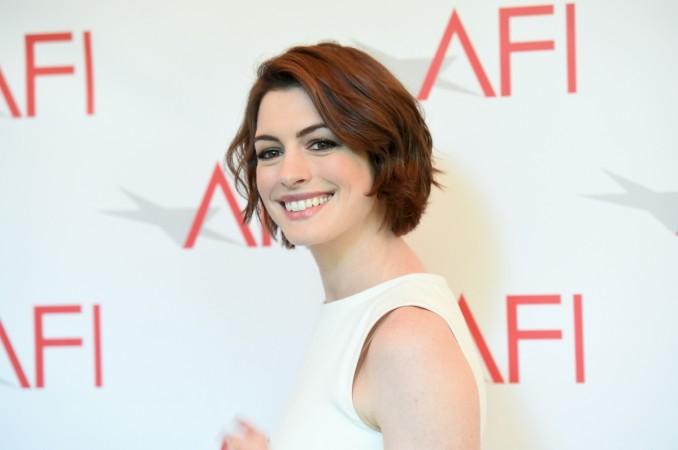 Put so many women together in the movie with no crucial male lead character on sets and you get a scene right out of the ladies room from a club, at least that's what it seems like when Anne Hathaway unfolded the events took place when she landed on the sets of Ocean's 8 first day of filming.
Like women at a club who are unabashed about compliments and support, Sandra Bullock, Cate Blanchett, Rihanna, Sarah Paulson, Mindy Kaling, Awkwafina and Helena Bonham Carter were giving Hathaway all the love when she entered the sets of Ocean's 8. The actress was a little conscious about the change in her body structure following the birth of her son Jonathan Rosebanks Shulman in 2016.
"I don't beat myself up about any of that stuff anymore, but after I had my son, the weight was really slow to come off and so I was a different size than I normally am," Hathaway told Ellen DeGeneres on The Ellen DeGeneres Show.
She explained that although she was comfortable with the changes, she was a little wary of the reactions she would get on her first day of shoot post the delivery.
However, when the 35-year-old walked on sets of her first movie, all her inhibitions were gone in moments thanks to the cast of Ocean's 8, especially Rihanna. The actress revealed how one statement by the Umbrella hitmaker boosted Hathaway's morale.
"I walked on the set, and my weight's a little up and I'm just aware of it…and I'm in my jeans, and I've done my best and I'm gonna love myself no matter what. And Sandy Bullock looks up and goes, 'You look good mama.' And then Cate Blanchett's like, 'Nice jeans, Hathaway.' And then Rihanna looks up and goes, 'Damn girl, you got an ass,'" the actress revealed.
"And I of course was freaked out and loved it so much and I go, 'Really?' And she goes, 'You got an ass like me.' And I can honestly say I've never had that experience on a film set before," Hathaway added.
"They were just so beautiful and to be surrounded by that much love and understanding, it was just great," Hathaway said.
So much love on the sets! Hathaway plays the role of an actress in the movie. Ocean's 8 hits theatres this Friday.