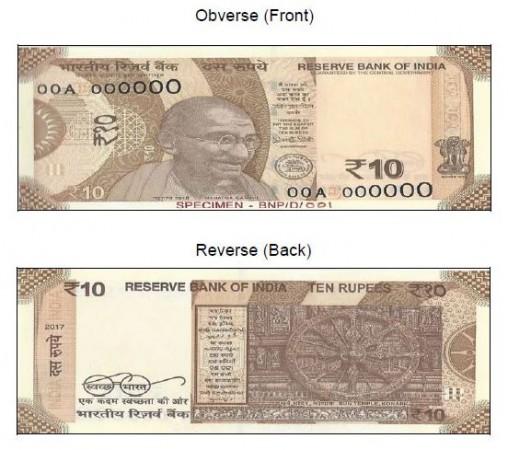 The Reserve Bank of India (RBI) on Friday issued new Rs10 currency notes with chocolate colour base under the Mahatma Gandhi series.
The new denomination has the motif of the Sun Temple at Konark in Odisha on the reverse, depicting the country's cultural heritage, the central bank stated in the release.
RBI has done an image makeover for the Rs 10 note with the chocolate brown colour. The denomination has other designs and geometric patterns aligning with the overall colour scheme on both sides. The redesigning of bank currency in lower denominations is part of a strategy to reduce counterfeiting.
It is learnt that the central bank has printed around 1 billion — 100 crore — units of the new currency in Rs 10 denomination. The last time the design of Rs 10 was changed was in the year 2005.
The central bank had in in August 2017 issued new currency notes of Rs 200 denomination and newly-designed Rs 50 currency notes. After the note ban exercise undertaken by the Central government in November 2016, RBI had introduced Rs 2,000 and new Rs 500 notes.
Salient Features
Obverse (Front)
1.See-through register with denominational numeral 10
2. Denominational numeral १० in Devanagari,
3. Portrait of Mahatma Gandhi at the centre,
4. Micro letters 'RBI', 'भारत ', 'INDIA' and '10',
5. Windowed demetalised security thread with inscriptions 'भारत' and RBI,
6. Guarantee Clause, Governor's signature with Promise Clause and RBI emblem towards right of Mahatma Gandhi portrait,
7. Ashoka Pillar emblem on the right,
8. Mahatma Gandhi portrait and electrotype (10) watermarks,
9. Number panel with numerals growing from small to big on the top left side and bottom right side.
Reverse (Back)
10. Year of printing of the note on the left,
11. Swachh Bharat logo with slogan,
12. Language panel,
13. Motif of Sun Temple, Konark,
14. Denominational numeral १० in Devnagari.
The dimension of the banknote is 63 mm x 123 mm.