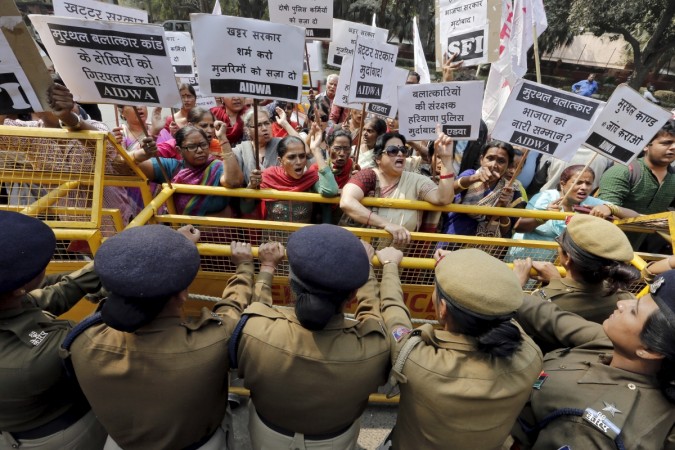 The Haryana Police added a section of the Indian Penal Code (IPC) to the FIR registered against the alleged sexual assaults by some Jat quota agitators in Murthal after the Faridabad police commissioner received an anonymous letter alleging gang rapes, the Hindustan Times quoted state government as saying to the Punjab and Haryana High Court Monday.
The Tribune had, in February, reported that 10 women passers-by were allegedly raped by a group of 30 Jat agitators on the national highway near Murthal village in Sonepat district. After the Centre sought a report on the alleged incident, the state government last month said no incidents of rape took place during the Jat agitation.
However, section 376(D) of the Indian Penal Code (IPC) has now been added to the FIR registered on Delhi resident Bobby Joshi's complaint March 30 alleging gang rapes in Murthal. The addition was made based on the letter, believed to be from an NRI woman.
On the morning of Feb. 21, as many as 30 Jat agitators demanding reservation in government jobs and educational institutions, allegedly set fire to vehicles heading towards the National Capital Region and gang-raped at least 10 women. Later, videos emerged showing women's undergarments strewn on the grounds at the site of the alleged incident.
While the Punjab and Haryana High Court had taken suo motu cognisance of the news reports, the police reportedly called it a "rumour." A special investigation team of policewomen was later formed to look into the allegations and people were asked to file complaint, however, no "victim" came forward.

The alleged incident happened when the Jat community had come on to the streets to protest against the state government's failure in giving them Other Backward Classes (OBC) status. The protests that went on for 10 days killed at least 30 people and caused property damage worth Rs. 10,000 crore.
The protests were called off when the Manohar Lal Khattar-government promised to grant them the OBC status before the end of the state budget session. The Jat reservation bill was approved by the Haryana Cabinet March 28 and passed by state Assembly March 29.