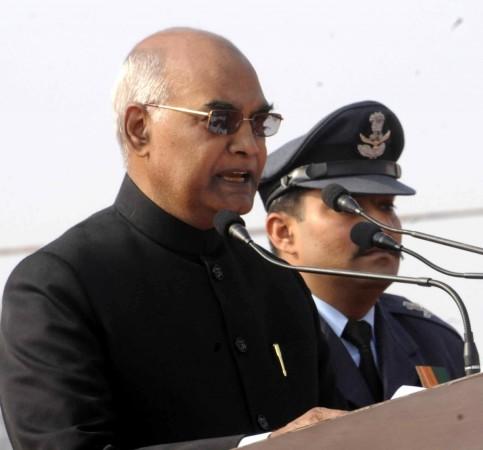 Bihar Governor Ram Nath Kovind would be the NDA's presidential candidate, BJP president Amit Shah announced on Monday.
"Kovind ji has always struggled for the rights of Dalits and other backward classes," the BJP President said at the press conference held after the parliamentary board meeting on Monday.
Shah added that Prime Minister Narendra Modi had spoken to Congress president Sonia Gandhi and former PM Manmohan Singh to seek support for their decision to name Kovind as the NDA's candidate for presidential polls. He further added that the Congress president said she would have a discussion with her party leadership and then inform the BJP about their decision.
Also read: Picking Ram Nath Kovind: BJP ran away with the game even before Opposition blinked
"Shri Ram Nath Kovind, a farmer's son, comes from a humble background. He devoted his life to public service & worked for poor & marginalised. With his illustrious background in the legal arena, Shri Kovind's knowledge and understanding of the Constitution will benefit the nation," PM Modi said on Twitter.
He added: "I am sure Shri Ram Nath Kovind will make an exceptional President & continue to be a strong voice for the poor, downtrodden & marginalised."
The Opposition parties have been informed of the NDA's decision to nominate Kovind for the presidential polls. They will hold a meeting to discuss the matter on June 22, ANI reported. Meanwhile, Telangana Chief Minister K Chandrasekhar Rao has supported the NDA's decision to name Kovind as their presidential candidate.
Also read: Why call Ram Nath Kovind 'anybody', 'unknown', 'uninspiring'? It violates the spirit of our democracy
No names have been discussed yet for the post of the vice-president, Shah said.
Who is Ram Nath Kovind ?

Kovind, who is currently the governor of Bihar, entered politics in 1994 as a Rajya Sabha MP from Uttar Pradesh. Kovind, who has a Dalit background, practised at the Delhi High Court and the Supreme Court for 16 years before entering politics. He was the Central Government Advocate in Delhi High Court from 1977 to 1979 and the Central Government Standing Counsel in Supreme Court from 1980 to 1993.
Kovind, who was born on October 1, 1945 in Kanpur Dehat in Uttar Pradesh, served as Rajya Sabha MP for two consecutive terms for 12 years till March 2006. He completed his B.Com and LLB from Kanpur University in Uttar Pradesh. He represented India at the United Nations headquarters in New York and also addressed the UN General Assembly in October 2002.
Kovind was also a member of several Parliamentary Committees, including Parliamentary Committee on Welfare of Scheduled Castes/Tribes, Social Justice and Empowerment, Home Affairs, Petroleum and Natural Gas and Law and Justice. He was also the Chairman of the Rajya Sabha House Committee.
During his 12-year parliamentary tenure, Kovind worked towards the development of basic infrastructure for education in rural areas by helping in construction of school buildings in Uttar Pradesh and Uttrakhand under the MPLAD Scheme.
When he served as a lawyer, Kovind worked towards providing free legal aid to the weaker sections of society, especially women from the Scheduled Castes and Sceduled Tribes, under the "Free Legal Aid Society" scheme in Delhi.
Kovind was also a member of BR Ambedkar University's Board of Management in Lucknow and Member of Board of Governors of Indian Institute of Management in Kolkata.
What do you think of NDA's presidential candidate ? Please tell us in the comments below