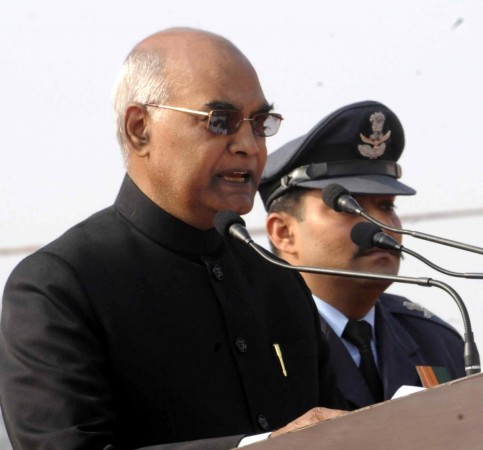 Indian democracy has a strange irony. While its members feel proud, claiming it to be the world's largest democracy, something even the West admires, they also at times question the very process of democratisation that India has seen in 70 years of Independence.
The latest example of this paradox is the reaction to the BJP picking Bihar Governor Ram Nath Kovind as the NDA's presidential candidate for the July 17 election.
Also read: Picking Ram Nath Kovind for presidential election 2017: BJP ran away with the game even before Opposition blinked
Opposition leader like Mamata Banerjee has asked "Kovind who?", when asked about the man who looks certain to succeed Pranab Mukherjee as the next occupant of Rashtrapati Bhavan. Besides, some veteran journalists have used the terms "anybody", "unknown" and "uninspiring choice" to describe the ruling party's choice. This smacked of rank ignorance and the shoddy attitude displayed towards the selection speaks poorly of our claims of belonging to a high quality democracy.
No doubt, the BJP's choice is a political one. In the event, the BJP reduced the Opposition's scope to manoeuver by picking a Dalit face -- anybody who opposes his candidature would be seen in negative light.
Why judge Kovind, a thinking politician, only from the angle of caste politics?
But the political angles apart, why not give Kovind his due respect as a candidate? The 71-year-old hailing from a family of farmers, has qualified for the IAS and practised law. As a Rajya Sabha MP and former president of the BJP Dalit Morcha, Kovind is known for his knowledge of the Constitution and the PMO, serving as he did as personal secretary to late prime minister Morarji Desai. He even represented India at the United Nations by addressing its General Assembly in 2002. In 2015, while administering oath as governor of Bihar, Kovind had asked Tej Pratap Yadav, the son of Lalu Prasad Yadav, to repeat his oath when he said "apekshit" instead of "upekshit".
Kovind has been known to have worked hard for the uplift of the backward classes and posed questions to the government that showed he is a man who wears a thinking hat.
To give a few examples of Kovind's involvement in political affairs, in 1978, Kovind, who was just 33 then, had asked the justification of the then Desai government's decision to scrap Rs 1000-rupee notes to curb black money.
In 1998, Kovind had followed it up when the NDA government of Atal Behari Vajpayee was there. The government then was mulling reintroducing Rs 1,000 notes and Kovind had asked then whether scrapping the high-denomination note had helped at all. He was serving his first term as a Rajya Sabha MP then.
Besides speaking up for the Dalits, Kovind had also spoken on the welfare of cattle and also the situation in Jammu & Kashmir. He has also contributed towards the field of education in his own state Uttar Pradesh and if one thinks he, like any other parochial politician of this country, is also concerned with his own state, Kovind was equally concerned with the poor state of the tea gardens in North Bengal.
Kovind courted criticism when he had said as a BJP spokesperson that Islam and Christianity are alien to India and people from minority groups, irrespective of their socio-economic status, should not be given any sort of reservation.
We can't make charisma the only yardstick to make or break leaders
Kovind is thus not a silent man. He might be not charismatic and hence the media's powerful focus did not fall on him but questioning his capacity just because he has been unknown speaks of a hypocrisy inherent in India's democratic culture. We can't really expect that everybody should have a prior publicity before taking up a high-profile job. Congress vice-president Rahul Gandhi has had all the media focus in his political career but yet, as a politician he has achieved virtually nothing. Arvind Kejriwal is another such story, though his performance as a politician is a tad better than Rahul Gandhi.
Even Modi was a 'Mr Nobody' in national politics till 2012
It is wise not to let the media manufacture leaders before we judge them. Prime Minister Narendra Modi was nowhere near national politics even two years prior to the Lok Sabha election of 2014 but what he had done thereafter is history, despite his endless tussle with the mainstream media.
It is high time our media pundits trust the power of our democracy and give it the respect it deserves. To their pseudo-liberal mindsets, Kovind may be "unknown" and "uninspiring". But if the man is really capable of good work -- which we will all get to know in due course -- it will indeed expose the prejudices that our much vaunted media harbours.