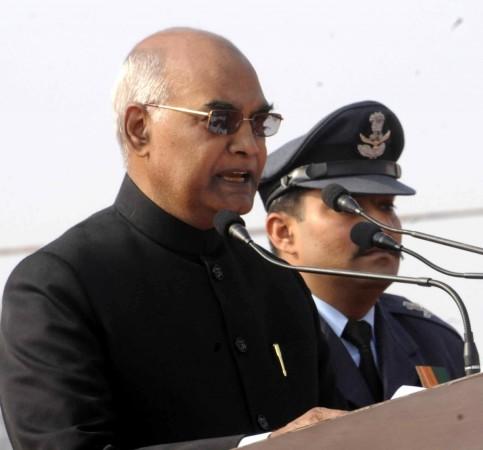 Bihar Governor Ram Nath Kovind is NDA's presidential candidate, BJP president Amit Shah announced on Monday.
Read: NDA picks Bihar governor as presidential candidate; Who is Ram Nath Kovind?
Kovind will meet Prime Minister Narendra Modi on Monday evening
Here are seven facts about Kovind, who has fought for the rights of Dalits and other backward classes but is also one of the biggest supporters of Modi's demonitisation move.
Kovind, who was born on October 1, 1945 in Kanpur Dehat in Uttar Pradesh, is a son of a farmer.
He also holds two degrees, one in Commerce and another in Law, both from Kanpur University. After earning a degree in law, he went to Delhi to prepare for the civil services examination. Though he failed to pass it twice, he cracked the exam in his third attempt. However, he did not join as he was selected for an allied service instead of IAS and thus started practising the law.
Besides serving as a Central government advocate in the Delhi high court from 1977 to 1979 he was also a Central Government Standing Counsel in the Supreme Court from 1980 to 1993. He became the Advocate-on-Record of the Supreme Court in 1978. He enrolled as an Advocate in 1971 with the Bar Council of Delhi. He practiced in the Delhi high court and the Supreme Court for 16 years until 1993.


Kovind also represented India at the United Nations headquarters in New York and also addressed the UN General Assembly in October 2002.
He was also a member of several Parliamentary Committees, including Parliamentary Committee on Welfare of Scheduled Castes/Tribes, Social Justice and Empowerment, Home Affairs, Petroleum and Natural Gas and Law and Justice. He was also the Chairman of the Rajya Sabha House Committee.
Kovind who also headed the RSS Dalit wing, was also a former President of the BJP Dalit Morcha, the President of the All-India Koli Samaj, and had served as national spokesperson of the BJP.
If elected, he will be the second Indian President after KR Narayanan to hail from the Dalit community.