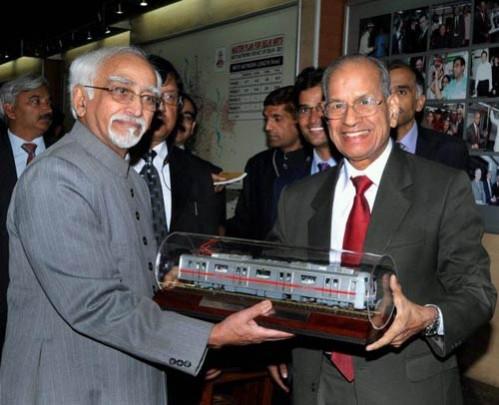 Even as the buzz gets louder on who could be the 14th President of India, the name of E Sreedharan adviser, Metro Rail Corp, remains a popular choice. In an online survey conducted by IndiaToday.in portal, the name of E Sreedharan, fondly referred to as 'Metro Man' topped the survey with 4,659 votes backing him as the NDA's candidate to the Presidency. Close to 11,000 people took part in the online survey.
This may come as a surprise to many considering the fact that the low-key and unassuming Sreedharan surged ahead of veteran BJP leaders like Lal Krishna Advani and External Affairs Minister Sushma Swaraj. The 'Metro Man' was closely followed by External Affairs Minister Sushma Swaraj with more than 15 percent of the vote. BJP patriarch LK Advani came third with a 13 percent vote share.
'Metro Man' E Sreedharan's name as a candidate for the Presidential run first surfaced after he was excluded from the list of dignitaries who would share the dais with Prime Minister Narendra Modi at the inauguration of the Kochi Metro, Kerala's first Metro rail service. His name was later included following timely intervention by the Kerala government.
It was widely reported later that his omission was a deliberate ploy by the BJP-led NDA since he was being looked at as a potential presidential candidate by the party. Sreedharan's popularity was discernible from the wild cheers all around when he was introduced to the crowd at the Kochi Metro launch. Kochi Metro Rail Limited (KMRL) Managing Director Elias George, who welcomed the gathering at the inaugural ceremony, was forced to halt his speech for a while as the crowd roared out a rousing welcome to Sreedharan.

From the BJP-led NDA camps, names of Union Ministers Venkaiah Naidu and Sushma Swaraj, Thawar Singh Gehlot, Mohan Bhagwat and Jharkhand Governor Draupadi Murmu have also been doing the rounds. The BJP is expected to announce his candidature in the coming days, an event awaited with keen interest. Will he or not? It remains to be seen if E Sreedharan, a strictly non-political personality, will carry the day as both camps -- BJP and Congress -- continue their search for the next occupant of Rashtrapati Bhavan.