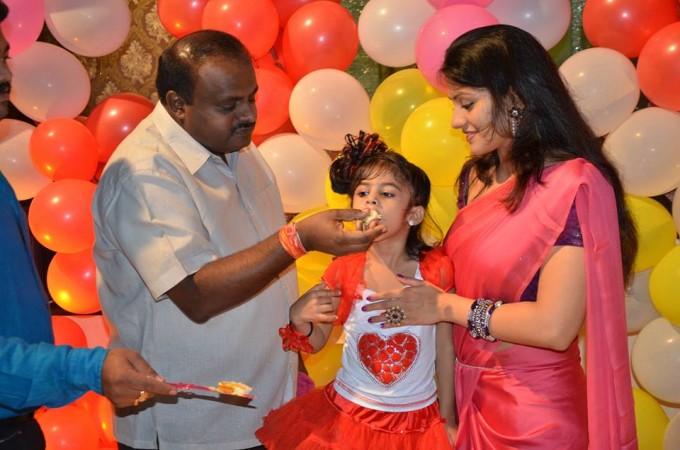 Radhika Kumaraswamy has become one of the highly-searched names in Google after her husband and JD(S) president HD Kumaraswamy was announced to be the next chief minister of Karnataka.
The people across the nation have apparently taken sudden interest towards knowing about Radhika's personal life. At the same time, there are posts doing rounds on social media sites and WhatsApp which mock HD Kumaraswamy over his marriage with the actress. In one such post, there is a joke on the age difference between them, while calling their relationship as their illegitimate marriage.
The trolls clearly indicate that HD Kumaraswamy's rivals are using his marriage with the actress as an opportunity to tarnish his image.
However, this is not the first time that she has become a pawn in dirty politics. While there were instances of politicians questioning their relationship in open, scribe Ravi Belagere had attempted to make a movie titled Mukhya Mantri I Love You on their relationship. The film had landed in a legal tussle and was later dropped.
There was also a controversial song titled 'Londonnalli Magu Ayatu Maha Mantrige, Nammavva Radhavvage....' in the film Devanahalli, presented by Reddy Brothers - G Karunakarreddy, Somashekharreddy and Janardhan Reddy, with Sriramulu.
Nonetheless, the actress has stayed away from responding to the issues.
HDK-Radhika Wedding
HD Kumaraswamy had secretly married Radhika in 2006. But their wedding was only formally revealed years later. Post marriage and after being blessed with baby girl Shamika in 2010, she stayed away from the limelight and returned to the industry as a producer with Lucky in 2013.
Last year, there were rumours of Radhika getting separated from Kumaraswamy and tying the knot with a Mangaluru-based businessman.
A few photos of Radhika Kumaraswamy with a businessman named Vivek Rai had hit the social media, following which the rumours of her second marriage surfaced. Speaking to the media, the actress said, "There is no truth in the reports and Vivek is my brother's friend. The pictures were taken in Kemmangundi (Chikkamagaluru district) a year ago,"
"I wanted to venture into a business related to agriculture and we were on a fact-finding trip where the pictures were taken. Many of my fans had also posed me for the photos, but some miscreants selectively picked the snaps and have intentionally posted my pictures with Vivek to tarnish my good reputation," Radhika added.
Radhika's personal life was marred with a controversy after she had entered films. She was reportedly married to Ratan Kumar, but the court annulled the wedding as she was married at a tender age.
HD Kumaraswamy Set to Take Oath
HD Kumaraswamy is all set to take oath as the Chief Minister of Karnataka on Wednesday, May 23. Politicians, cutting across all the parties, will be attending the grand ceremony. Although his JD(S) won 38 seats in the recently-held assembly election, he is forming the next government in the state with the support of the Congress.