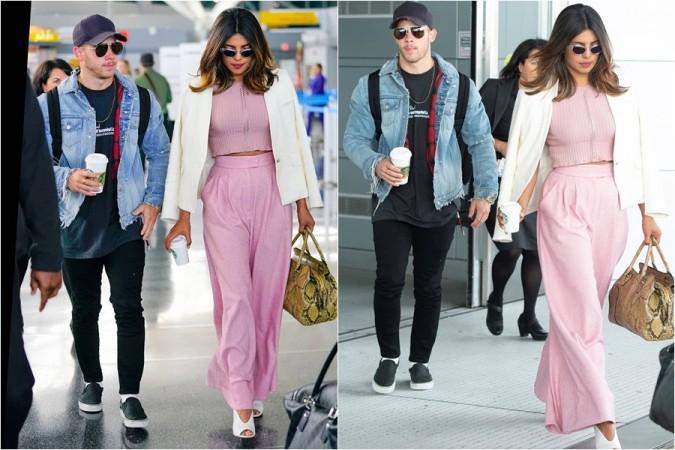 Priyanka Chopra and Nick Jonas seem to be getting quite along these days. The rumoured lovebirds recently made a joint appearance at the John F. Kennedy International Airport in New York, sending the paparazzi into a frenzy.
In a video, Priyanka and Nick can be seen sipping the coffee while stepping out of the airport premises. As soon as the couple were spotted by the shutterbugs, they started clicking pictures of them till the two zoomed off to their car and drove away without posing for a photograph together.
While Priyanka was seen wearing lavender flare pants and a matching crop top teamed up with a cream blazer, Nick was looking handsome in his casual attire.
It looks like the duo is planning a romantic vacation.
It is being said that Priyanka and Nick struck chords with each other when they met last year during the MET Gala event and have reportedly been in touch since then.
But it seems like things have started fuming between the two over the past few weeks when they were spotted together at LA Dodger Stadium over a baseball game.
Later, they were spotted spending time on a dinner date at Toca Madera in West Hollywood. The onlookers said that they were blown away by their romantic PDA and were seen getting cozy with each other.
"They were cuddling at the table. At one point Priyanka ran her hands through his hair. They were very affectionate with one another," a source was quoted as saying by an American entertainment website.
The couple has also been hinting at their possible relationship when they both publicly commented on each other's Instagram posts leaving fans into a tizzy.
If reports are to be believed, Priyanka and Nick are keeping their relationship casuals with no strings attached and no commitments.
"Nick and Priyanka met through mutual friends and their attraction was immediately undeniable. Things are not too serious right now, but they are having amazing sex, but that's all it is, for now, no strings or commitments," a source was quoted by the American entertainment website.
When Priyanka Chopra's mother Madhu Chopra was recently asked about the Quantico actress dating the pop singer, she reportedly reiterated her thoughts that she can't imagine her daughter with a foreigner.
While none of them has spoken about their relationship, but the way things have been going, it looks like Priyanka and Nick will start making public appearances together and confirm their love affair.