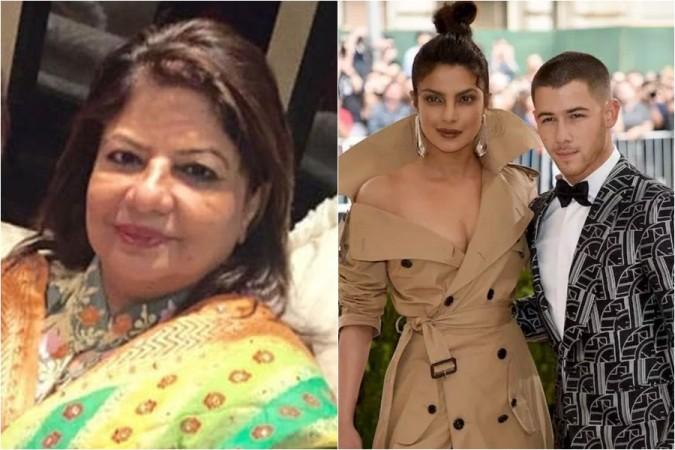 Priyanka Chopra and Nick Jonas' recent engagement on social media has left their fans wondering whether they were confirming the rumours of them dating. A few days ago, one of the close friends of Nick told US Weekly that Priyanka and Nick are dating and both are interested in each other. While their fans believe that the two are a couple, Priyanka's mother Madhu Chopra has finally opened up about her daughter's new relationship.
Madhu Chopra had earlier said that she can't imagine Priyanka with a foreigner and even now her views on her daughter and marriage remains unchanged.
According to the latest reports, Madhu Chopra has said that she would like to repeat what she had said in the past about not approving a foreigner for Priyanka.
"I feel it is much easier to adapt to a married life if both man and wife belong to the same culture. I can't imagine Priyanka with a foreigner. For Priyanka marriage is for keeps, also so if she doesn't find anyone who is a perfect fit for her, and stays unmarried I don't have any issue with that," Madhu Chopra was earlier quoted as saying by Dainik Bhaskar.
While both Priyanka and Nick are yet to speak about their rumoured relationship, a source close to Nick said that the Quantico star and the pop singer are having amazing sex and there is no strings or commitments at all.
"Nick and Priyanka met through mutual friends and their attraction was immediately undeniable. Things are not too serious right now, but they are having amazing sex, but that's all it is, for now, no strings or commitments," a source was quoted by the American entertainment website.
While a friend of Nick's has said that the singer is still in player mode and likes older women and pretty caught up with Priyanka, the actress' close friends seem to have been warning her that Nick might dump her and break her heart if she gets too emotionally connected to him.
Earlier, Priyanka and Nick were spotted at LA Dodger Stadium over a baseball match and a few days ago, the lovebirds were seen cuddling on a yacht while travelling with a group of friends. Later, they were also spotted over a dinner date where an insider told Page Six that the duo was "cosied up at a table in the garden patio."
"They were cuddling at the table. At one point Priyanka ran her hands through his hair. They were very affectionate with one another," the insider said.