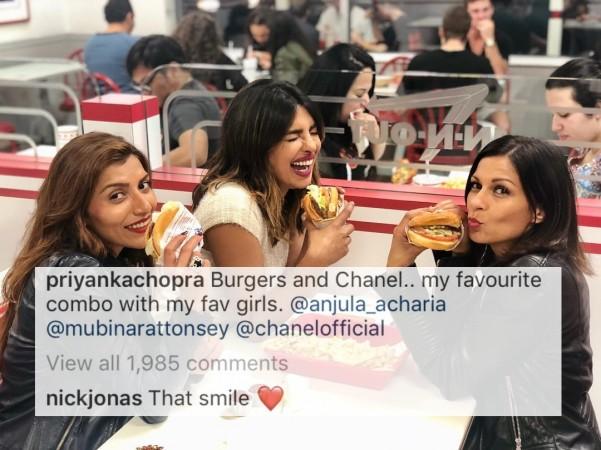 It seems like Nick Jonas is completely bowled over by Priyanka Chopra's charm. The pop singer, who was recently spotted with the Quantico star a couple of times in the past few days, is now publicly commenting on PeeCee's Instagram pictures,
Priyanka recently went out with her girl pals Anjula Acharia (her manager) and filmmaker Mubina Rattonsey and dropped by at In-N-Out Burger. She documented the moment in a picture and posted it on her Instagram in which she was seen sharing a joke with her friends.
And Nick Jonas, who seems to be captivated by Priyanka, left a comment praising her smile which was followed by a heart emoji. His comment sent the Desi Girl's fans into a frenzy by giving away a subtle hint about their rumoured relationship.
Fans soon started flooding the post's comment section expressing their shock over Nick's comment. While some were going gaga over the couple, others were not happy to see them together as a couple. They started asking Priyanka to stay away from Nick as they believe that the pop singer is not looking for a serious relationship.
One furious fan threatened Nick if he ever cheats on Priyanka, he could be in some serious trouble, "beta mere se bach ke rahiyo mera naam raj singh naag from India" while another wrote, "back off man."
Another angry fan tried to mock Nick for his age gap and boyish look by saying, "You look like a boy trying desperately to look like a man getting all buff but you are short and you have a boys face pop star. Priyanka needs a real MAN not a student" while the other said they look like mother and son. While Nick is 25 years old, Priyanka is 35.
Meanwhile, an excited fan, who was happy that the rumours of Priyanka and Nick have eventually turned out to be true, wrote, "Wow its true! I am happier than I should be. Jus yesterday in the shower i was thinking , even if they aren't dating they must be definitely sexing . Now i guess they're doing both."
While another wrote, "I think Nick's gonna hit it off with Priyanka ! I'm happy for you guys, I secretly wish that you guys get engaged."
Priyanka Chopra and Nick Jonas sparked dating rumours when they were recently spotted at the LA Dodger Stadium over a baseball game. Later, they were spotted over a dinner date.
While they might look like a madly-in-love couple, a friend of Nick's said that the pop singer won't be settling down anytime soon with Priyanka as he is currently in player mode. The friend added that Nick loves older women and he's very caught up with her.
And if the reports are to be believed, Priyanka and Nick are currently in no strings attached relationship and having amazing sex.
"Nick and Priyanka met through mutual friends and their attraction was immediately undeniable. Things are not too serious right now, but they are having amazing sex, but that's all it is, for now, no strings or commitments," a source was quoted by the American entertainment website.
Priyanka's close friends seem to be aware of Nick's intentions and have reportedly been warning the actress to try not to get too attached to him as they claimed the singer is a total player. But PeeCee thinks Nick is really sexy and talented and the two are apparently having good chemistry in the bedroom as well.