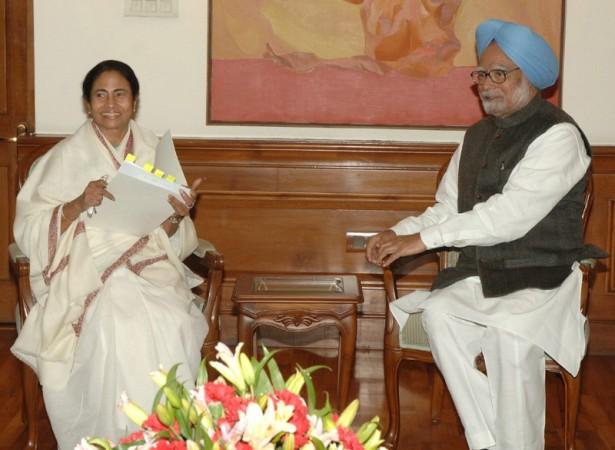 In this unique series, 'Prime Minister Probables', novelist and political analyst Sriram Karri speaks to eminent people, including political scientists, social activists, academics, experts, analysts and journalists about ten political leaders, besides incumbent Prime Minister Narendra Modi and principal opposition leader Rahul Gandhi, who could end up leading India in 2019.
In the inaugural piece of the series, Sriram Karri had discussed with Kancha Ilaiah Shepherd the possibility of India having its first Dalit prime minister in behenji Mayawati in 2019.
In the second piece here, he talks to Dr Sanjaya Baru, bestselling author of 'The Accidental Prime Minister'. Baru, an economist, editor, journalist, political analyst and professor at the JNU and HCU, was also a communications advisor to Prime Minister Manmohan Singh during his first term. Baru argues that Mamata Banerjee has squandered the opportunity but if it is not Modi, one cannot rule out another prime ministerial term for Dr Manmohan Singh.
You were the first proponent of the idea that Mamata Banerjee could become the leader of a unified opposition to Narendra Modi. How do you rate her chances now? How strong a Prime Ministerial Probable is she at this point in time?
Over two years ago, when Mamata Banerjee was re-elected as the Chief Minister of Bengal, I wrote a column arguing that she had great potential to emerge as a national leader. The idea I proposed was that if Sonia Gandhi, reading the signs that it was the start of a Modi era, marked by a rapid decline of Congress, chose to give a call for all ex-Congress leader to return to the party, including principally Mamata Banerjee, Sharad Pawar and Y S Jaganmohan Reddy, then Mamata had a greater potential of becoming the Congress alternative at national level to Modi.
I believed then that if these three leaders, and others, did return to the party fold, merging their parties into the Congress, between them, Mamata had the strongest mass base, she is relatively clean in her image, a fighter and could acquire a national presence to challenge Modi.
While the other leaders are also strong, they do not have the mass base of a Mamata. Jagan's political graph was down having lost to Chandrababu Naidu and he has several cases going on. He is relatively very young, and has never held a Constitutional post before. Sharad Pawar, who once was close to challenging PV Narasimha Rao for the throne, is a bit past his prime, and low on mass support with BJP-Shiv Sena having won Maharashtra.
Therefore, my argument was that if Sonia Gandhi so decides, Mamata could have become a great Congress leader and emerged as a UPA leader to take on Narendra Modi. She had many advantages; one, being a woman leader, would have helped Congress get the gender power on their side. Standing fiercely up to Modi, as only Mamata can, would have given the edge to the Congress to project an Indian woman, unlike Sonia Gandhi, as the prime minister.
In short, I believed then that Mamata had all the right qualification to be the principal challenger to Modi, who could have galvanised the country and the Congress party for 2019.
But, within these two years, several things have changed. One, the Congress party has decided to make Rahul Gandhi the President and Sonia has certainly shied away from making any such call as I had proposed to former Congress leaders to do a ghar wapsi. As a consequence, now none of the three major former Congress leaders are willing to work under the leadership of Rahul Gandhi, or back his fight against Modi.
They may have accepted Sonia Gandhi as a leader, but not Rahul. This development has essentially put paid to my idea and thrown the possibility aside.
But most significantly, unlike Narendra Modi, who after 2013 cleverly marketed himself as a national leader with a potential to challenge the UPA, Mamata has not yet succeeded in doing so. She remains a State leader, who has not once taken up an issue to capture the imagination of voters outside Bengal or to credibly challenge Modi. She is certainly, therefore, not in a strong position of a 'Probable PM' that she might have been.
Looking back, she has squandered the opportunity to emerge as a pan-Indian leader.
How does the idea of a third front fare in your book? Who are the other probables?
It is clear that while there are several potential PM candidates in the non-BJP camp, among them Deve Gowda, Chandrababu Naidu, Mayawati and Mulayam Singh Yadav, it is not clear if we will see the repeat of a Karnataka model at the national level. It was easy for Rahul Gandhi-led Congress to sacrifice the chief ministerial aspiration of Siddaramiah but won't do the same for Rahul's own aspiration to be Prime Minister, which he has clearly stated he now wants to become.
For anyone to emerge the leader of a third front depends on their inter-relationships as well as their party wins in the elections. It is not clear if Mamata has a good relationship with other leaders like Gowda, Mulayam, the Lalu clan, or Mayawati. In fact, for example, Deve Gowda, who has served as the Prime Minister in the past, has shown excellent relationship management when he mobilised support for his son in Karnataka. Mulayam has a pan-India Yadav-Muslim base. Mayawati has a solid mass base amongst the Dalits. In contrast, Mamata has no voter base outside Bengal.
My judgement, therefore, is that it will have to be either a BJP or a Congress-led coalition. There is no other candidate besides Narendra Modi as far as the BJP camp is concerned. The question, therefore, is who will Congress support, other than Rahul Gandhi, if there is such a mandate.
This analysis obviously hinges on BJP not repeating a mandate of 2014. What then is the possibility of a Mamata having a chance in a post-alliance scenario with a fractured verdict?
It is interesting that with around 30 MPs from Bengal, TMC can seek the top post in a fractured verdict. But in a post-poll scenario, the pressures is from all sides. If the Congress, which is likely to have the largest number after the BJP, say just short of 100, is to decide a leader other than Rahul Gandhi, it will insist on their own party leader for PM.
Will Mamata then be a preferred candidate as far as Rahul Gandhi goes? No, she, unlike Dr Manmohan Singh is not a predictable commodity. Sonia Gandhi chose Dr Singh for the only reason that he had absolutely no mass base. Mamata will prove difficult for Rahul, who like his mother, will prefer another puppet.
Who could that be?
I won't dismiss the chances of Dr Manmohan Singh for another term. If Mahathir Mohamad can return from retirement to become the PM of Malaysia at the age of 92, why not Dr Singh again? He is still only in the 80s!
What are the chances of Narendra Modi right now?
At the start of the election season, Narendra Modi is still the first preference with 50-50 percent chances. It will all depend on how the narrative gets set for the elections, how the campaigning goes and how it will be in each state, as opposed to the mood of the nation at large. The pre-poll alliances, especially in UP, Bihar and Maharashtra will be crucial.
ASSUMPTIONS BEHIND THE SERIES
The question of a third candidate arises only if the BJP–led NDA or the Congress-led UPA as a pre-poll alliance does not make past the halfway mark, or gets very close to it. The series, therefore, is limited in a first assumption that the BJP won't get the majority it won in 2014. It is also assumed that the BJP won't be routed so badly as to bring the Congress into power with a majority. The series chooses to dismiss the possibility of leaders other than Narendra Modi in BJP or Rahul Gandhi in Congress to arise as a coalition preference to lead the nation.
The series believes it has a responsibility to the people of India and to make them aware that a hung Parliament can not only lead to the creation of an unlikely post-poll alliance but also enable various leaders who are not even seemingly in the race to likely be crowned in a verdict where no single party or alliance wins a clear majority.