Congress president Rahul Gandhi left members of Congress and the opposition party in shock after he strode past the Lok Sabha Speaker's chair and gave a hug to Prime Minister Narendra Modi.
The Modi-led government had definitely expected all forms of criticism during its first no-confidence motion in four years, which is being held at the Parliament, but a hug from Rahul was definitely not on the cards.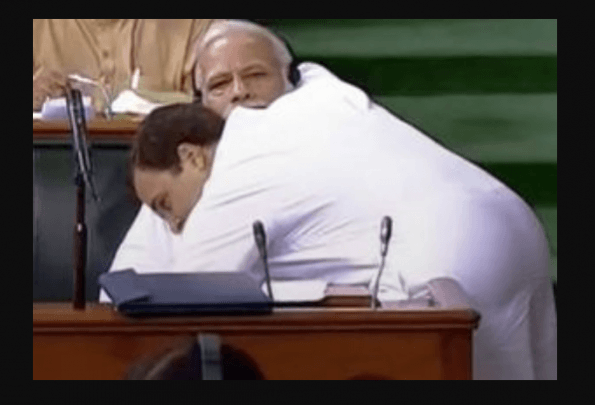 Rahul went and hugged the PM after claiming that he had no hatred toward BJP.
Though the unexpected hug came as a surprise to Modi, he reciprocated to it by shaking hands with the Congress president and even whispered a few words into his ears. Rahul was later caught winking at his party members after he returned to his seat.
BJP even took to Twitter to thank Congress for the "entertainment."
Meanwhile, it has become a hot topic of discussion on the social media, with many people referring to Rahul's hug as "Jaadu ki jhappi."
I might dislike Congress for various Actions.
May blame You for many Inactions @RahulGandhi
But, You have a Positivity
One with Positive Vibes can Feel it!
You give us a Hope
1) That Hug was like Munna Bhai's 'Jaadu ki Jhappi to Maamu'
2) Wink Better than Priya Prakash? pic.twitter.com/EXrlC11MpV

— Rehan Ali Khan (@Rehan_Pro) July 20, 2018
Wow. What a hug by @RahulGandhi to prime minister. Jadu ki jhappi dono ko jarurat hai. Happy hug day.

— Maithili Singh (@MaithiliSingh9) July 20, 2018
Were they showing Munna Bhai MBBS on Pogo yesterday? Why did Rahul Gandhi give Modi a Jaadu Ki Jhappi? ? #NoConfidencePolitics

— Shivam Murari (@Shivam_Murari) July 20, 2018