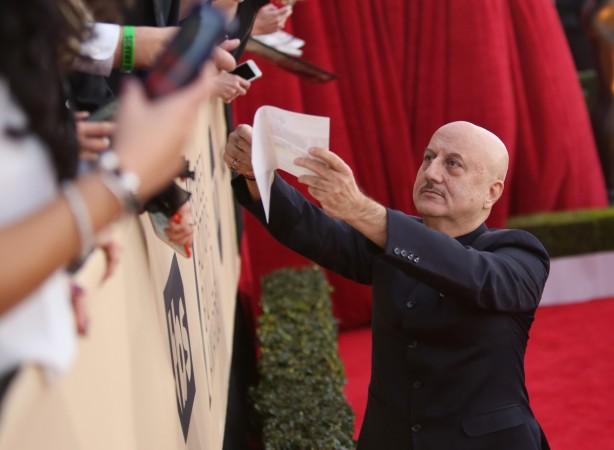 It is often said that imitation is the sincerest form of flattery and Bollywood veteran Anupam Kher truly lives up to it. The actor is spot on when it comes to the mannerism of former Indian prime minister Dr. Manmohan Singh for his upcoming movie The Accidental Prime Minister.
A new video, which has gone viral on social media, shows Kher essaying the role of Singh while walking down a flight of carpeted steps during a rehearsal shot in London, United Kingdom.
The video shows Kher sporting the iconic blue turban, white kurta-pajama and a blue Nehru jacket. What left the viewers amused is the way that the actor copied the senior Congress leader, right from his look to his body movement. The video also shows two security personnel standing next to him.
After seeing the massive response that the video had garnered, Kher took to Twitter to upload the six-second video from his own Twitter handle. According to a Hindustan Times report, the viral video, however, was not shot by the crew members but by fans who had come to see the shooting. Here is the video:
"The opportunity of portraying a contemporary personality like Dr. Manmohan Singh in 'The Accidental Prime Minister' is an immense challenge for me as an actor. He is part of a 24/7 media era where the world knows his persona minutely," Kher was quoted as saying by HT.
Here's all about "The Accidental Prime Minister" movie
The Accidental Prime Minister is set for release December 21. The first look of the film was released by Kher on his personal Twitter handle in June last year.
The movie is based on the book written by Sanjaya Baru with the same name. The movie is directed by Vijay Ratnakar Gutte and the creative producer is renowned filmmaker Hansal Mehta.
Apart from Kher, the other cast members in the movie include Akshaye Khanna, Suzanne Bernert, and Aahana Kumra. Khanna is said to be playing the role of Sanjaya Baru while Kumra will essay the role of Priyanka Gandhi, HT reported.