Students of Pondicherry University held a protest on September 16, against the university authorities for glorifying and beautifying the campus ahead of National Assessment and Accreditation Council visit.
In the last few weeks, the PU students were compelled to behave in a "proper" manner and assist the university authorities in changing the campus. This included putting up good quotes, removing old political posters, re-painting the walls and installing new boards among other things. All these changes were done to please the NAAC community which is planning their visit next month, a student told International Business Times, India.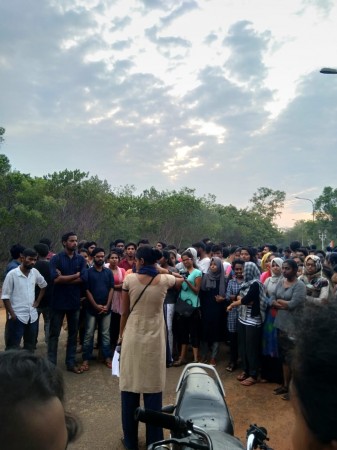 Earlier, when students demanded funds to acquire basic facilities like Wi-FI in girls hostel, 24x7 library facility, hygienic food in the college mess, clean drinking water and many more, the university denied their demands claiming they did not have sufficient funds.
According to the students, when the NAAC committee is making their visit to rate the campus, the funds suddenly seem to have appeared to make modifications within the university.
The students have united to protest against the issue that they are facing. The protest started at around 5 pm from the Aurobindo hostel gate. All political parties, except ABVP, will be supporting the students in the protest. This includes SFI, ASA, APSF, MSF, SIO, NSUI, and AISF.
The student union president Naramada K has placed an inquiry about the issue but did not get any response from the administration, a statement from Students Action Committee PU.
PU has restricted any kind of gathering within the campus after 6 PM, but has set aside the rule to celebrate Ganesh Chaturthi, the PU student said. The festival was celebrated after 7.30 pm in the campus with the idol of Lord Ganesh.
"We wanted to do a gay pride rally when the section 377 was finally demolished. But we were restricted to do it before 6'o clock and the problem is most of the students have classes till 5.30 pm. So when it comes to celebrating the festival they are fine but they have a problem with pride rallies." said a PU student.
"University had called for a meeting a few days ago telling the students how to behave when NAAC visits and asked us to highlight the positive part about the university in front of NAAC. They told us that we can discuss the issue after the visit of NAAC. Basically, the university is not addressing the actual issue of the students," the student said.
All political parties including SFI, ASA, APSF, MSF, SIO, NSUI, AISF except ABVP, have united for resisting the situation and has declared an indefinite strike with the onset of a march from Aurobindo hostel.
Pondicherry University could not be reached for comment at the time this article was published.
Here is the letter: