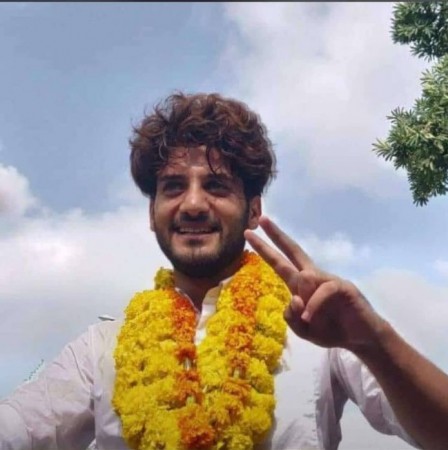 At a time when a sense of insecurity among many Kashmiri students living outside the state has increased particularly when they often find themselves tagged as anti-national, Aeshal Nisar , a young Kashmiri from the militant hotbed, Anantnag in South Kashmir studying in Delhi University's College for Vocational Studies (CVS) also found himself in similar controversies.
But that did not deter young Aeshal from participating in the college elections which he won yesterday and hence became the first Kashmiri to win a DU college presidential poll.
Aeshal reportedly not only faced a stiff competition from the opposition student group, ABVP but was also called an anti-national who is hell-bent on creating a vicious atmosphere in the campus. An FIR was also lodged in the Malviya Nagar police station in Delhi against him and he was called by the police, only a few days before the elections.
However, Aeshal who is a BA History(Hons) student at CVS had already won many a hearts in the college campus and found the college students and faculty supporting him in spite of the smearing campaign that was initiated against him.
He filed his nomination for CVS college president post as an independent candidate and won by a margin of more than 200 votes.
Besides being involved in the activities of numerous college societies, Aeshal also headed the women development cell in his college.
Aeshal has joined the ranks of a few Kashmiri students who have made a name for themselves in student politics outside the state like Shehla Rashid who is the former Vice President of the Jawaharlal Nehru University(JNU).
Back home, however, student politics is still banned in the Kashmir University campus and other associated colleges.
The successive governments in J&K have reasoned that the student elections in the colleges and universities of the valley may trigger anti-national sentiments among the students and create law and order problem in the campuses.