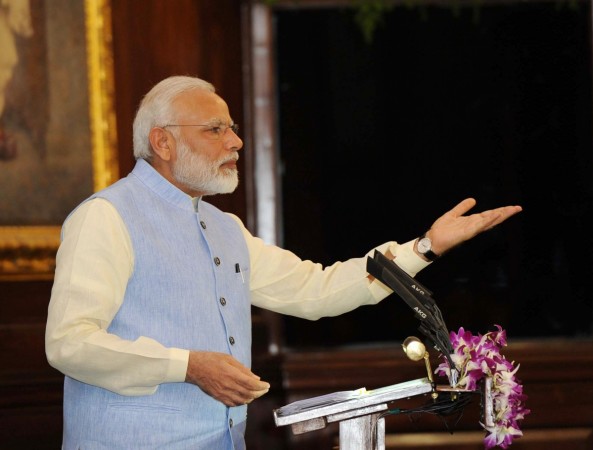 Prime Minister Narendra Modi addressed concerns of the Congress party over demonetisation and the Goods Services and Tax at the India's Business Reforms event at New Delhi's Pravasi Bharatiya Kendra on November 4.
Modi was accompanied by World Bank CEO Kristalina Georgieva, who acknowledged the Indian government effeorts to bring reforms in the country's economy and to stabilise it.
Modi thanked the World Bank CEO and said "The World Bank has recognised our efforts."
India has been ranked 100 in the World Bank's recent Ease of Doing Business index this year. It was 142 last year.
"In reforms what pays off is persistence, what we are seeing is an extraordinary achievement by India," said Georgieva.
Meanwhile, referring to Rahul Gandhi's twin torpedo remark over the two reforms, Modi said that "Kuch logon ko bharat ki ranking 142 se 100 hone ki baat samajh nahi aati hai, inko fark nahi padta, aur isme kuch log aise hain jo pehle World Bank mein reh chuke hain. Vo aaj bhi Bharat ki ranking pe sawal utha rahe hain." (Few people do not understand India's move to the 100th position, from 142nd and some who have worked with the World Bank previously are questioning India's ranking).
Gandhi on October 30, had said that the common man in India has not overcome the torpedo of demonetisation, when the government brought in GST in a hurry. He had added that GST as a reform is good, but it was lacking in planning and execution.
"The prime minister is not able to understand the feeling of India over demonetisation, ask small traders about ease of doing business," Gandhi had said.
Modi also added, "If there had been certain disciplines under the previous government, like insolvency code, bankruptcy code or commercial code, they would have enjoyed the celebration of India's 100th position, which we are doing now."
India's strides in 'Ease of Business' made a few people uncomfortable…wish they focussed on making business easier when they were in power. pic.twitter.com/MlpWCvqiHm

— Narendra Modi (@narendramodi) November 4, 2017
However, Modi hailed the efforts of all the stakeholders from different states who accepted the GST reforms and demonetisation and said that GST will not only bring ease in doing business, but it will also bring ease in living.
"There has been a huge gap between improvement of rankings and the plight of small scale businesses in India. Had we achieved this ranking before, we would have been a different nation today," added Modi.
"Our mantra is reform, perform and transform and with the help from the World Bank will surely create a better nation," Modi said.
Modi said that a panel of ministers was working on the concerns raised by small traders and businessmen on GST.
He also said that "If all the states and stakeholders accept GST at the next meeting on November 9 and 10, then India will further grow in its business, globally."
Meanwhile, the opposition parties will be observing November 8 as a black day. Earlier the Centre has announced that it would observe anti-black money day on November 8.