With just a few days to go for Prime Minister Narendra Modi's demonetisation move to complete one year on November 8, opposition parties cutting across party lines and have decided to observe the day as a 'Black Day' throughout India.
After World Bank, IMF chief hails PM Modi's economic reforms; calls his efforts 'monumental'
The announcement came a day after Congress vice-president Rahul Gandhi called demonetisation Modi's personal whim.
"What happened on November 8? Modiji came on television and said I don't like Rs 500 and Rs 1,000 notes. So, I have decided to spike them... and by doing that he attacked the whole country in one stroke," Rahul had said while addressing a rally in Gandhinagar on Monday.
Leader of Opposition in the Rajya Sabha Ghulam Nabi Azad, announcing the protests during a press conference, described demonetisation as "ill-conceived", a "hasty" decision and the "scam of the century".
"This particular announcement made on November 8 is the scam of the century, which is why we are observing this as Black Day," Azad told the media.
"One can say this is a scam of the century. Eighteen political parties have decided to hold protests in every state against the government's decision which caused hardship to the people. Never ever in the world people have died because of a government policy," he added.
Derek O'Brien from the Trinamool Congress and dissident Janata Dal-United member Sharad Yadav were also present at the joint press conference.
In the past few days, Modi has been criticised by many like former union minister Arun Shouri, who blamed demonetisation for the economic slowdown in India.

In fact on Monday, many political leaders attended a meeting to voice their opinion about Modi's economic initiatives.
Who attended the meeting
The meeting which was held at the Parliament House, was attended by O'Brien, Yadav, D Raja from CPI, Kanimozhi from DMK, Satish Chandra Mishra from the BSP, said a Indian Express report.
The report also said that at least 18 Opposition parties are planning to join the protests against the demonetisation on November 8.
The parties have decided to name the protest according to their regional languages,
O'Brien said that his party would call November 8 "Kalo Dibas".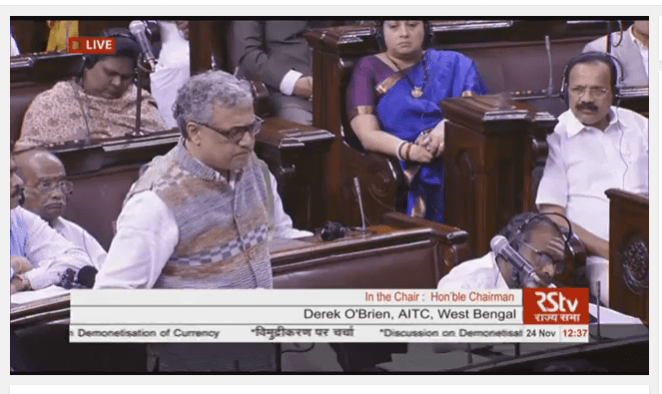 "The history of modern India will remember the 'scam' which took place on November 8. We had raised a number of questions and our doubts regarding the policy but the government could not answer or erase our doubts," O'Brien was quoted as saying by PTI.