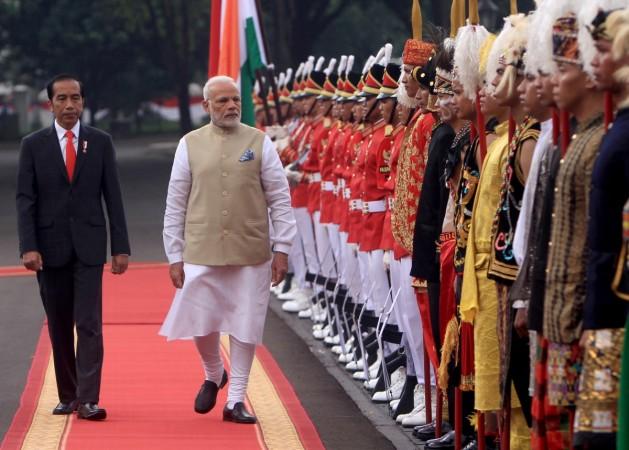 Prime Minister Narendra Modi is on a three-nation tour to south-east Asian countries -- Indonesia, Singapore, and Malaysia -- from May 29 to June 2. Modi landed in the Indonesian capital, Jakarta, on Tuesday, May 29, and said that India has a robust strategic partnership with the three nations and his visit will act as a boost to the country's Act East policy.
PM Modi took to Twitter as soon as he kick-started his tour and said:
"Landed in Jakarta. India and Indonesia are friendly maritime neighbours with deep civilisational links. This visit will further the convergence of our political, economic and strategic interests."
Upon landing at Jakarta, PM Modi interacted with Indonesian President Joko Widodo. He will also address the Indian diaspora living in the island nation. Later, Modi will interact with Singapore President Halimah Yacob and hold delegation level talks with Singapore Prime Minister Lee Hsien Loong on June 1.
Quick facts on the 'Act East' policy
The 'Look East' policy was formulated in 1991
Under Modi government, External Affairs Minister Sushma Swaraj proposed the new outlook for Look East policy calling it 'Act East' policy
Act East policy was originally conceived as an economic initiative but it later gained political, strategic and cultural dimensions
The countries that are part of the policy are Vietnam, Indonesia, Malaysia, Japan, Republic of Korea (ROK), Australia, Singapore and Association of Southeast Asian Nations (ASEAN).
The policy emphasizes on promoting economic cooperation, cultural ties and developing a strategic relationship with nations from the Asia-Pacific region
It also focuses on trade, skills, urban renewal and smart cities among others to enhance the India-ASEAN cooperation.
A part of the 'Act East' policy also includes developing several 'Look-East' connectivity multimodal transport projects with the nations of ASEAN.