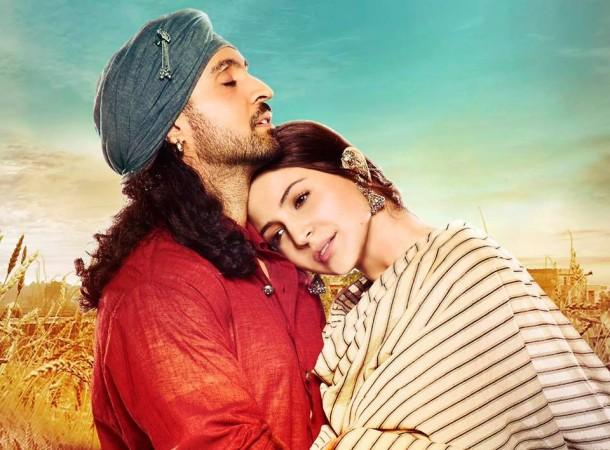 Anushka Sharma's movie Phillauri will hit theatres on Friday, March 24, and prior to the release, a special screening was held for the who's who of Bollywood. The movie has received rave reviews from critics and celebrities alike.
Anushka Sharma's WhatsApp number online; you can video call the gorgeous Phillauri actress at...
Alia Bhatt, Sidharth Malhotra, Sonakshi Sinha, Dia Mirza, Rekha, Rajkumar Hirani, Ashutosh Gowarikar were among the celebrities who attended the special screening on Wednesday.
Directed by Anshai Lal, Phillauri is Anushka's second production under Clean State Films after NH10 and has the actress and Diljit Dosanjh in lead roles.
Anushka plays the role of a friendly ghost, Shashi. The film is set in Punjab and revolves around the story of an NRI, who is manglik and is forced to marry a tree before his actual wedding. However, things go wrong when he realises that he married a ghost Shashi, who resides in the tree.
Below are the Phillauri movie review by Bollywood critics:
John Kaery of Reporter Times said: "Phillauri combines romance with comedy and extremely fine work. All the actors performed above the expected levels. Anushka Sharma and Diljit Dosanjh chemistry are quick love. Projection of early age India was nicely done.Director Anshai Lal delivered exceptional performance after quite long. 2nd half comparatively less entertaining. Unique story penning style is quick love. Overall a must watch for movie lovers this weekend."
Manjusha Radhakrishnan of Gulf News said: "Director (Anshai) Lal prefers to narrate his story at a languid pace and that can be frustrating for the viewers. Singer and actor Diljit Dosanjh is perfectly cast as a troubled poet, but there's little spark between Anushka and him. The computer graphics in this movie is notable, barring the climax which feels overdone. It's the predictability of the story that lets this film done. You know what's coming long before it plays out and that makes it tedious and soul-destroying."
Surabhi Redkar of Koimoi said: "Phillauri is a fun watch thanks to its light-hearted story. Shashi's friendly ghost will win your hearts. Visual effects is the key contributor in making this film look polished. Diljit Dosanjh has amazing screen presence. Suraj Sharma aptly portrays the confused NRI. Anushka Sharma as Shashi – the bride in spirit, pulls off a nice act."
Nihit Bhave of the Times of India said: "It seems as though Phillauri could have gone in a lot of directions, but it took the road usually travelled. Diljit Dosanjh brings his trademark goodness to a rather bland role. And as the translucent ghost (kudos to the VFX team), Anushka delivers a solid performance with a weird mix of sadness and humour."
Raja Sen of NDTV said: "This is a shame, because Anushka Sharma, who has also produced this film, is one of our most intriguing actresses. She's fine in her part, and often beguilingly pretty, yet the film wastes her. The fundamental problem with Phillauri, I believe, may be one of miscasting. Suraj Sharma - the boy from Life Of Pi and Umrika - is one of the blandest, least likeable leading men I've seen in a while. A beatboxer who can't even pretend to beatbox, his character Kanan allows wedding jitters to turn him into a slackjawed and insensitive moron, well before his ghostly bride shows up."
Sukanya Verma of Rediff.com said: "Producer and leading lady Anushka Sharma looks ethereal and conveys the enlightenment of a woman before her time. What is amiss in her performance is whimsy. Perhaps, well behaved is not such a nice trait for a ghost after all. Dijit Dosanjh employs his earthy charm to Phillauri's many songs and scene whereas Suraj Sharma's terrified commitment-phobe is like witnessing Chuckie Finister in live-action. He does it convincingly too but it's exasperating when Phillauri doesn't allow him to be anything else."
Sweta Kaushal of Hindustan Times said: "Except for that one point, there is nothing extraordinary about Phillauri. It is a light-hearted, average love story. Watch it, if you must, for Anushka Sharma and Diljit Dosanjh. However, there is one aspect of the film that is extremely impressive, set in undivided Punjab in the pre-Independence era Anushka-Diljit's love story is quite unusual. While Diljit plays a "bhaant, kanjar, piyakkad" singer, Anushka is the obedient sister of a doctor who believes that singing and dancing is not for "respected people".
Following are the Phillauri movie reviews by Bollywood celebs:
Alia Bhatt: "#Phillauri is such a lovely unique film!!!With such honest performances from the whole cast!!!! @AnushkaSharma you are such an inspiration"