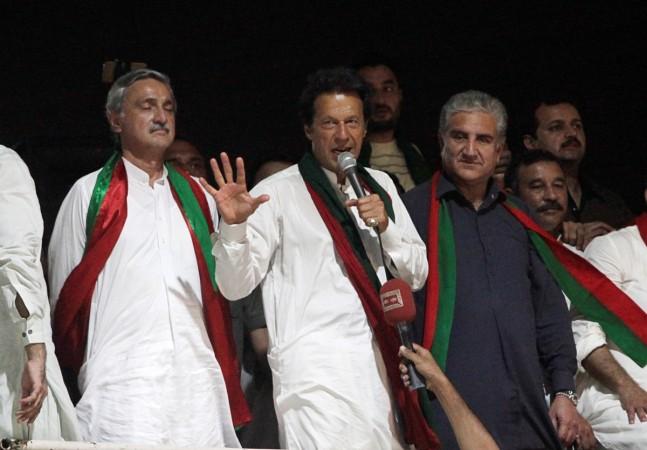 A video posted by Pakistani cricketer-turned-politician Imran Khan's party Pakistan Tehreek-i-Insaf (PTI) may have set the Chinese investors in a tizzy. In the video, Khan is seen exercising vigorously and the caption says that Pakistan Prime Minister Nawaz Sharif should be very afraid.
The party is set to launch a protest "Occupy Islamabad" against Sharif on November 2. A Chinese ambassador met Khan on Tuesday seeking assurance that the China-Pakistan Economic Corridor (CPEC) will remain unharmed.
"The gist of the meeting, according to PTI sources, was to dispel the impression that the party's ongoing accountability movement against the Prime Minister was somehow meant to sabotage the CPEC," Dawn reported.
Sharif is facing trouble at home after he was named in the Panama Papers leak and over his handling of the Kashmir issue. PTI intends to shut down Islamabad during the protest.
China's Ambassador to Pakistan, Sun Weidong, reportedly met Khan at his residence in Islamabad. According to reports, Khan has assured Weidong and expressed his support for the project. He also appreciated China's support to Pakistan on international forums, where India has tried to isolate the country for the Uri attack.
China, however, may be having doubts about the project, which would connect China's largest province Xinjiang with Pakistan's Gwadar Port in Balochistan. The cost of protecting the workers "is (a) big problem in efficiently pushing forward the projects," a Chinese national mouthpiece had written in its editorial in September.
Pakistan MP's criticism of CPEC
MP's in Pakistan recently expressed their doubts over the CPEC turning into East India Company from the colonial era.
It will be very harmful for us if we have to bear the entire burden. Will this [project] be a national development or a national calamity? Whatever loans taken from China will have to be paid by the poor people of Pakistan," senator Saeed Ul Hassan Mandokhail reportedly said at a meeting of the Senate Standing Committee on Planning and Development, Dawn reported.

"Another East India Company is in the offing; national interests are not being protected. We are proud of the friendship between Pakistan and China, but the interests of the state should come first," added senator Tahir Hussain Mashhadi, chairman of the Senate Standing Committee on Planning and Development.