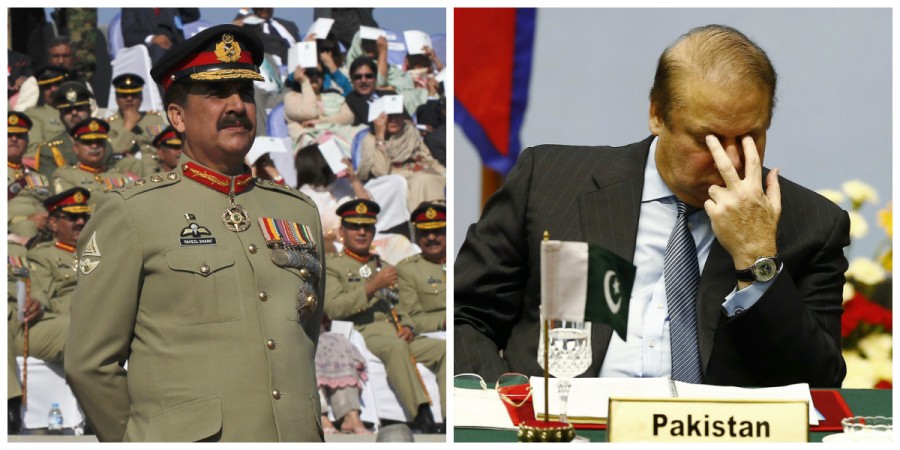 Pakistan's Chief of Army Staff General Raheel Sharif sacked six army officers – including two generals – from service over alleged corruption charges, a move seen as a signal to Pakistan Prime Minister Nawaz Sharif in the wake of the Panama Papers revelation, reported Pakistani newspapers.
The Dawn cited an "authoritative" source to confirm the number on Thursday; initial reports had said that 12 army officers were dismissed on graft charges.
The daily said that the sacked officers had reportedly served in the country's Balochistan province Frontier Corps (FC).
Besides being dismissed, the officers – including a lieutenant general, major general and three brigadiers – have also been asked to "return all earnings accumulated through corruption," the daily quoted an intelligence official as saying. Their perks and privileges, except pensions, also stand withdrawn.
The dismissals were not officially confirmed, Dawn added.
The Express Tribune reported that the dismissals come days after Raheel Sharif talked tough on corruption and called for broad-based accountability.
"Across-the-board accountability is necessary for the solidarity, integrity and prosperity of Pakistan. Pakistan's armed forces will fully support every meaningful effort in that direction, which would ensure a better future for our next generations," the publication quoted General Raheel Sharif as saying during his visit to the Signal Regimental Centre in Kohat on Tuesday.
Raheel Sharif's subtle message to Nawaz Sharif
The Express Tribune report stated that Raheel's statement has to be seen in the context of the Panama Papers revelation that claimed about 220 Pakistanis, including three children of Nawaz Sharif, were named as having offshore accounts.
According to the Dawn report, the revelation had prompted calls for a probe, with some opposition leaders even asking Nawaz Sharif to quit.
Former cricketer' Imran Khan's Tehreek-e-Insaf (PTI) leader Shah Mahmood Qureshi lauded the dismissals, saying it was a message that Operation Zarb-i-Azb and the war against corruption will not stop, the Express Tribune reported.
A Pakistani analyst said that Raheel Sharif's was a message to the Nawaz Sharif government to crack the whip on corruption. "The message from Gen. Sharif to the civilian political leadership is unambiguous – we are cleansing our ranks and you should cleanse yours," the Hindu quoted Imtiaz Gul, an Islamabad-based political analyst, as saying.