OnePlus 6 is already setting new sales records in India, proving it to be a great Android flagship in a competitive space. The handset is getting positive reviews from critics and consumers alike, but there are a few things that are still missing from the self-proclaimed "flagship killer" to make it a solid rival. Luckily, OnePlus carefully listens to feedback and it's already hard at work to fill those voids.
OnePlus 6 has received its first software update since launch and it includes some important features that the company promised during the launch. For instance, the ability to hide the notch in the OnePlus 6 was confirmed well before the handset's release and the slo-mo recording feature was proudly demonstrated at the launch. Both these features weren't available in the OnePlus 6, but users have now got them via software update.
Hide the notch
After updating the software on OnePlus 6, users can go into the Settings menu to hide the notch in plain sight. By enabling the new feature, your OnePlus 6 will get the classic phone design with 18:9 aspect ratio by painting both sides around it black. It's an interim solution to those who hate the notch, but it does the trick.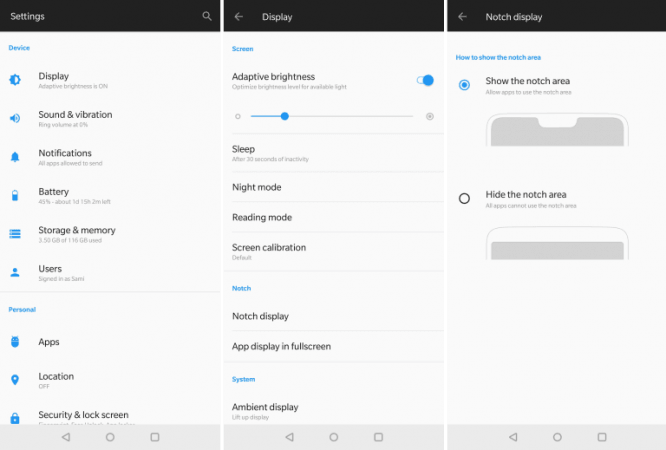 Here's how to enable it:
Step 1: Go to Settings

Step 2: Select Display

Step 3: Select "Notch Display"

Step 4: Choose "Hide the notch area" and it's done.
Slo-mo recording
The slo-mo recording is a nifty feature in smartphones these days and OnePlus had to get on top of it. The latest software update in the OnePlus 6 supports slow-motion video recording at 720p@480fps and 1080@240fps.
While this particular feature may not be as great as the 960fps super slo-mo video recording capability in handsets like Sony Xperia XZ Premium and Samsung Galaxy S9, OnePlus takes pride in saying users won't have to select the slo-mo option at the precise time and record a minute long video while choosing certain shots in slow motion.
Selfie portrait
While both features are quite useful for users, one of the most anticipated features in the OnePlus 6 is the selfie portrait. The company was criticised for not offering portrait mode in the front camera when most of its rivals did, but OnePlus 6 is going to change that.
OnePlus has confirmed that users will receive selfie portrait option in OnePlus 6 via software update. Since the feature was missed in the current update, users can expect it in the next one in upcoming days. After all, OnePlus has a reputation for a swift rollout of software updates, so the wait shouldn't be long.