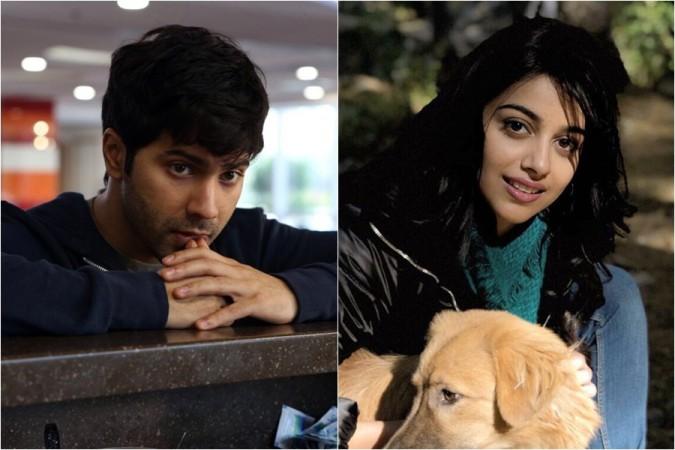 Director Shoojit Sircar's October starring Varun Dhawan and Banita Sandhu released this Friday, April 13 and fans are already going gaga over it. The movie buffs who watched the early morning shows, can't stop praising the film's storyline and performances by lead actors.
Critics and Bollywood celebrities, who watched the film at a pre-screening in Mumbai, were carried away by the unique storyline and brilliant performances by its lead actors Varun Dhawan and debutante Banita Sandhu.
The celebs also praised director Shoojit Sircar for his honest depiction by shooting the scenes at real locations. The intense background score sets the right mood and keeps the audience glued to their seats.
The movie has managed to tug the heartstrings of the audience. Moviegoers have taken to the social media, and have been expressing their love for the film. People are going gaga over Varun's simple yet powerful acting and Banita Sandhu's mute act. Shoojit Sircar is being hailed for his honest direction.
The movie has taken off to a slow start and witnessed around 15 percent occupancy in the morning shows in many parts of the country.
Made with an approximate budget of Rs 40 crores, October released in more than 2,200 screens across the world and is expected to do good business.
Check some of the tweets on the film:
I left from home at 11.28 am for office. At 11.38 am I reached Railway station. I am now waiting for the train to arrive. Believe me in this 15-20 mins, I feel am done for the day and want to go back home. #Garmi #Exhausted
Also #October bhi dekhni hain aaj?

— Vishal Jain (@vishjain61) April 13, 2018
Loved it #October
I have no words to express my feelings. I just want to thanks for giving us a chance to watch one of the beautiful movie of
"Hindi Cinema".@Varun_dvn sir u r really a great human being ☺️ u nailed it by ur amazing performance ??#movie #MovieReview

— Vinita Vini (@imvinitavini) April 12, 2018
saw october wid my unclee...simple yet awesome movie....our superstar @varun_dvn rising day by day...classical performance ny himm...must watch moviee...awsmmmmmm

— Aditya (@Adityasarogi) April 12, 2018
#October is a brilliant movie...can't believe that I got to watch it with @Varun_dvn in the same cinema...@Varun_dvn u nailed this role and @BanitaSandhu u were so honest and pure..u were so sweet to take a picture with me and my cousins...??

— Kashish (@Kashish0207) April 11, 2018
october is a best movie my lots of friends have watched it vd is sooo different and i heard that banita you have a outstanding debut #october gonna watch tommorow for sure ?????

— rohit negi (@rohit88943118) April 12, 2018
#Happy mood bcz Every day I got to learn the meaning of love from u @Varun_dvn....u r such a mystery and an unfold truth of my life that I discover u every day with lots of profound love from bottom of my heart #ExperienceOctober.

— Noshin Tasnim (@NoshinTasnim1) April 12, 2018