After entertaining fans with back-to-back hits, Varun Dhawan will be seen in another avatar on celluloid in Shoojit Sircar's upcoming directorial October. The movie, which has been released across theatres in India Friday, April 13, has managed to impress the audience with its intriguing storyline and intense performances by the lead actors.
Varun Dhawan has been receiving immense appreciation and love for his character Danish. He plays the role of an individual attached to the hospitality industry. Interestingly, the actor underwent an on-set training for his character who is Hotel Management student.
The makers shot the sequences at real locations, a five-star hotel in Delhi. Shoojit Sircar who believes in bringing out the raw emotions of the actors made Varun undergo all things what a hospitality student does, from washing toilets, cleaning dishes, vacuuming, cooking, etc. Varun didn't hesitate and did all the tasks to pick up the mannerisms of a hotel employee.
Shoojit adds that the idea of October has grown out of experiences of his life and writer, Juhi Chaturvedi's life. They were discussing an idea of a love story even before finishing Madras Cafe and the scripting of Piku without any intention of turning it into a film.
Movie Review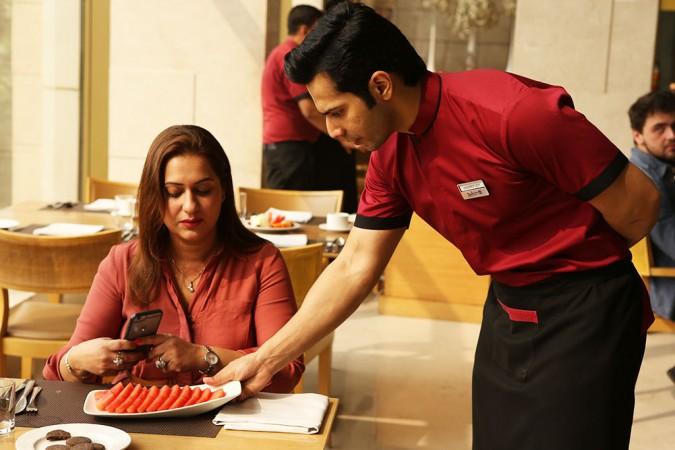 Shoojit Sircar has yet again impressed the critics with his honest direction. Varun Dhawan has left both critics and audience awestruck with his performance. Debutante Banita Sandhu is also being praised for her simplicity and expressing her emotions well through her eyes.
From fans to industry stalwarts, reactions have been pouring in from one and all praising Shoojit Sircar's unconventional take on love and the cast.
Based on the relationship between Danish (Varun) and Shiuli (Banita) Shoojit Sircar's unique love story will definitely captivate you.
While Varun absolutely charms us with his innocence, debutant Banita Sandhu as the docile Shiuli sure leaves an impression. It marvelously narrates the journey of Dan and Shiuli yet managing to intrigue and peak the curiosity further.
Box office collection
So far, Varun Dhawan has maintained an exceptional track record at the box office. His last two movies Judwaa 2 and Badrinath Ki Dulhania raked in moolah at the box office. While Judwaa 2 crossed Rs 200 crore, Badrinath Ki Dulhania earns Rs 100 crore at the domestic market.
In his career spanning over 6 years, Varun has acted in nine movies without a single flop to his name. In such a short span of time, he has established himself as a bankable star and garnered a huge fan following.
Considering the buzz and Varun's star power, the movie is expected to collect Rs 8-9 crore on the opening day at the domestic box office. It is also expected to gain momemtum during its opening weekend as it is likely to be benefitted by the positive word response.
Story
Dan (Varun Dhawan) is living the life of a carefree 21-year-old, gallivanting with his friends and fellow hotel interns who feed off each other's everyday moments, their ups and downs. Shiuli (Banita Sandhu) is one such intern at the same hotel, who at times is at a receiving end of Dan's audaciousness. Life goes on until a sudden turn of events brings Dan and Shiuli's lives together, into an unshakable bond. The emotional connection between them goes through a metamorphoses that brings out an internal awakening. October is not a love story, but rather a story about love.
Trailer
The trailer has definitely managed to peak the curiosity of the audience.
"The trailer was designed to confuse, pique curiosity. It's just a simple story of a boy and a girl, which has grown from personal experiences and not any film, brought to life by the beauty and fluidity of Juhi's writing," Shoojit Sircar said.
When Varun met Shoojit, the actor was being his clumsy self in his ripped denims, a crumpled shirt and disheveled hair. The director observed him closely and that's when he discovered 'Dan' in his eyes. He said, "For a year we had been auditioning newcomers for the leading man's role in October and suddenly there he was in front of me. Varun looked 20-21 and his eyes reflected honesty".
The director and his writing partner, Juhi wanted to change the perception of love by delving deeper into the poetic space comparing its beauty to that of the Shiuli flower. "When Juhi suggested we name the girl after the flower, it triggered off more thoughts on love and what it means," he remembers.
Cast and crew
October features Varun Dhawan as Danish "Dan" Walia, a hotel management student. Banita Sandhu as Shiuli, his classmate and co-worker, Gitanjali Rao, Sahil Vedoliyaa and Prashant Singh play key roles.