Nokia was once the go-to brand for phones and it is now trying to regain that spot after its comeback under the new ownership of HMD Global – another Finnish company. So far, everything HMD has done under the Nokia brand name has turned fruitful results and it might finally be time to go bigger.
From re-launching Nokia 3310 and Nokia 8810 to introducing some new and critically-acclaimed budget and mid-range phones, Nokia has found a sweet spot of success in the completely revamped mobile industry. Come next year, Nokia will be ready to share the table with the big guns in the industry, including Apple, Samsung, Huawei and others.
If you haven't guessed it yet, we are talking about the Nokia 9, which has been fuelling the rumour mill for several weeks. And it now appears that all the media hype has paid off in favour of the anticipating fans.
Nokia 9 launch
Nokia 9 was previously expected to be debuted at the Mobile World Congress (MWC) event that is annually held in February. But new information has cropped up suggesting HMD Global's new plans to unveil the much-awaited flagship early. There's no exact release date for the phone, but the new leak puts the Nokia 9's official launch sometime around January 2019.

Why should you care?
We have seen many phones defying the traditional smartphones and jumping the innovation cycle at a tremendous pace. For example, Xiaomi launched the Mi MIX 3 with 10GB RAM, Huawei came up with triple camera lens setup at the back and Samsung finally showed off its first-ever foldable smartphone. It's Nokia's turn to shine now.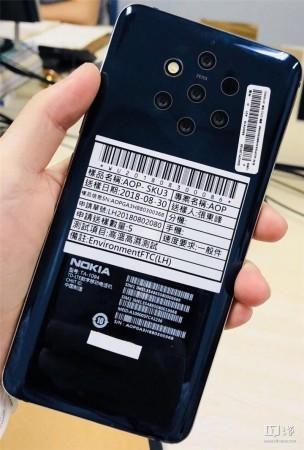 As rumours have suggested, Nokia 9 will flaunt five cameras at the back, making it the world's first smartphone with penta-lens setup. Rounding off the five sensors in a perfect hexagon is a large LED flash and laser focus module. The icing on the cake is the PureView branding after HMD recently acquired the rights from Microsoft.
What each lens does is not exactly known, but we can guess a wide-angle lens, depth sensor, RGB and monochrome sensors and something entirely new to make its way to the phone. It will be exciting to see what Nokia 9's camera is capable of, especially after having tested the P20 Pro and its triple camera setup.
Besides a breath-taking camera setup, Nokia 9 is said to come with a 5.99-inch QHD+ display without a notch and an in-display fingerprint scanner. Under the hood, it'll pack Qualcomm Snapdragon 845 paired with 6GB/8GB RAM and Android 9.0 Pie OS out-of-the-box. Finally, the glass back is not here to just make the phone look premium, but it will also enable wireless charging.
Stay tuned for more details on the Nokia 9.